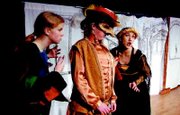 INDEPENDENCE -- A colorful piece of theatrical history will come alive at Talmadge Middle School this weekend. The Community Theatre at Talmadge (formerly Apple Box Theater) will bring "Androcles and the Lion," in the style of the Italian "commedia dell'arte" to the stage.
Director Bob Page's latest celebration of theater and community will be presented on the cafeteria stage at 7 p.m. Friday, Dec. 13, and at 1 p.m. Saturday, Dec. 14.
"We're so excited to bring this production to Polk County for a special holiday treat," said Geri Page. "We hope many people will take advantage of the opportunity and will come to support our group.
"Our cast is made up of local talent, and our production will be a rewarding experience," said Page.
Tickets are $5 for adults and $4 for children 12 and under.
Talmadge school is located at 510 16th St.
Beginning during the Renaissance and lasting into the 18th century, traveling troupes performed commedia dell'arte, traveling over Europe with their wagon stages.
The company's actors each developed a specific type of character. Some played the same character for life.
Since all wore masks, their roles were eventually called "masks."
Plots frequently revolved around the two lovers. Female parts were originally played by men, but later by females. The actors had specific comic business, "lazzi" or bag-of-tricks" that they developed.
Before going on stage, actors agreed on a basic plot and a general idea of how it should be performed.
This year, the group also held two school touring performances on Dec. 10 -- one for the Amity Middle School and one for Henry Hill Elementary.
Aurand Harris is author of the dramatic interpretation of the original Greek fable and the readaptation shows are produced courtesy of Anchorage Press Plays.