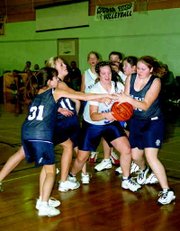 INDEPENDENCE -- Talmadge's seventh-grade girls basketball team improved to 9-0 on the season on Dec. 18 with a 37-12 victory against visiting Mountain View of Newberg.
The Cougars dominated from the opening tipoff and were on top 22-2 at halftime.
Kasaundra Ramirez scored a team-high eight points for Talmadge, and Rebecca Anni finished with six. A total of 11 players scored at least two points for the Cougars.
"It was a lot of balanced scoring for sure," Coach Bridget Weldon said. "We've been working on a lot of new stuff, some different offenses and defenses. We wanted to get some game experience with it, rather than just practicing and scrimmaging with it."
Weldon said her team's dedication is evident in its perfect attendance at practice. That's particularly impressive when you consider workouts begin at 6 a.m.
"We emphasize total team effort," Weldon said. "Everybody knows their role. Different people contribute in different ways every night. They show up ready to play every day. That definitely makes a difference."
♦
Talmadge's eighth-grade girls basketball team netted its second win of the season Dec. 18, knocking off Mountain View 42-34
.
Sarah Cole, Channel Cossey and Alex Younger were the leading scorers for the Cougars.
"It was a good win for us," Talmadge coach Brad Simkins said. "We don't play another game until January. We've been struggling a little, so to be able to finish on a positive note is really nice. It will help us focus for the last five games. We all needed that."
More like this story