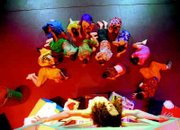 DALLAS -- The musical "Godspell" will be performed at Dallas High School at 7:30 p.m. Thursday to Saturday, Feb. 21 to 23.
Additional performances are Friday and Saturday, March 1 and 3. A Sunday performance is set for 2 p.m. March 3.
All performances will be in the John P. Bollman Auditorium. Tickets are $5 for students and seniors and $6 for adults.
The musical follows the final days of Jesus -- including his betrayal and crucifixion -- as told in the Gospel of St. Matthew.
Heavy stuff.
But it's not treated heavily, said Andrew Engstrom, who plays John the Baptist and Judas. The play is uplifting, he said.
"This is a happy play. There's a lot of involvement with the crowd. It's upbeat and joyful."
Director Aaron Fawcett, a language arts teacher at Dallas High, said the play is a product of the time period it was written in -- the 1960s and 70s.
"There were so many movements going on then, including a significant religious movement," Fawcett said.
"This play has to do with movements happening."