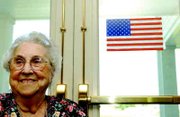 DALLAS -- Dallas Hospital. Polk Community Hospital. Valley Community Hospital. And now, West Valley Hospital. With a new name, Polk County's hospital begins a new chapter in its 90-year history.
Valley Community Hospital became West Valley Hospital July 1. Pacific Health Horizons, Salem Hospital's parent company, made the official announcement after months of ironing out details.
Pacific Health Horizons bought the hospital outright after having owned the building and equipment since 1999. In 1994, Salem Hospital loaned Valley Hospital the money to open as a nonprofit.
With the new name comes new plans for the hospital. The main entrance will move to Washington Street. The building will get a facelift and the ambulance entrance will be reworked.
West Valley Hospital has 118 employees. That number hasn't changed since the purchase plan was announced.
Large layoffs last year led some to speculate the hospital would close. The hospital remains open, now as a critical access hospital.
West Valley Hospital will continue to offer medical inpatient procedures, 24-hour emergency care, outpatient surgeries, rehabilitation, laboratory and radiology services.
The critical access designation, from the state's Health Division, allows West Valley Hospital to collect more in Medicare reimbursements.
"The new name symbolizes a fresh start for the hospital," said Administrator Joyce Evans. "We have big plans for both facilities and programs that will improve the delivery of healthcare here in Polk County."