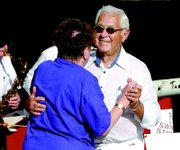 DALLAS -- Summerfest in Dallas brought a large number and wide variety of people to town.
If those who entered the drawing for a barbecue at Murphy's Grill are an indication, the weekend festivities brought people from all over the country.
Midwest and East Coast states were represented among addresses of people hoping to take home a new grill.
Rich Wolcott, director of the Dallas Area Chamber of Commerce was pleased with the weekend.
"Everyone seemed very pleased, and all had a good time," he said.
The parade was a success, with more than 100 entries.
"I think we broke a record," Wolcott said.
Downtown Dallas saw good business at Dallas Antiques where Ron and Ginnie McDaniel reported a strong weekend with lots of interested people stopping in.
Just a block away, however, Kathy Greysmith said that sales at Courtyard Coffeehouse may have been affected by the plethora of food and beverage options on the Courthouse lawn.
Every business saw the effects of thousands of residents and visitors changing their routines for a weekend of activity in Dallas. For restaurants in general, it appears that locals and visitors alike contributed to a strong weekend of activity.
The Rotary Club's annual Breakfast in the Park exceeded its goal of 1,600 breakfast-goers with more than 1,800 served. An increase of nearly 400 from the year before.
The Tom Newton Car Show jumped from 75 vehicles to more than 200 this year. That increase contributed, in large measure, to the increased turnout at Breakfast in the Park.
This year's Fun Run also saw an increase in entries. Eight-five people entered, almost double that of last year's run.
The Dallas Area Chamber of Commerce is ready to begin planning next year's Summerfest.
"It may have a little different format," Wolcott said.
"But it will be another success."