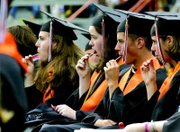 DALLAS -- More than 230 students graduated from Dallas High School Saturday.
Bryan Woodruff, one of three valedictorians who spoke at the ceremony, said he was both excited and nervous about the big day.
"I am very excited, but also very sad," he said.
He'll miss his teachers, friends and classmates.
"I will miss having a group of people whose names I knew, who I felt comfortable around," he said.
"I'll miss all the familiar faces."
Woodruff, David Emmert and Yulia Tkachyshyn were co-valedictorians for the class of 2002, with perfect 4.0 grade point averages. Salutatorian Taylor Boatwright had a GPA of just under 4.0.
Principal Scott McLeod and Superintendent Dave Novotney both spoke at the graduation.
Woodruff is one of many students in his class planning to attend college next year. Others will work or join the military. Despite the terrorist attacks that marred the beginning of their senior year, Woodruff and his classmates remain optimistic about their futures.
"I don't think it's affected us too much," he said.
He will still look back on high school with fond memories. He thinks he'll always remember his physics class with teacher Stan Church, and the many hours he spent working on the school yearbook.
"Working on the yearbook was hard work, but when you work on it so much, you really get to know the people you're in it with," he said.
"When you put the book together, and hand it out at the end of the school year, it's a great experience."
In his speech, Woodruff reminds his fellow graduates to thank the staff at Dallas High for the education they've received.
"Just make sure and thank these people, who have invested four years of their lives and careers in us," he said. "They've done so much."