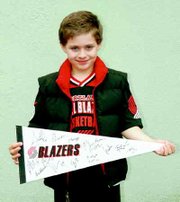 DALLAS -- Portland has been playing some of its best basketball of the NBA season recently thanks to an explosive offense, a smothering defense and the astute coaching of Maurice Cheeks.
But maybe Adam Eggers, a second-grader from Dallas, has something to do with the Blazers' hot streak as well.
The 8-year-old Eggers believes he has become a good luck charm for his beloved Blazers. Who knows? The way things have been going, maybe he's right.
It all started with the Annual Alumni Blazers game March 2 at Western Oregon University. Eggers was selected to hold an autographed Blazers basketball during a halftime auction. At the exact moment Eggers was holding the ball, Scottie Pippen hit a game-tying shot. The Blazers later won in overtime.
"I was like, 'Am I going to go first? Am I going to go last?' Eggers said. "I got chosen last. It was really fun."
Adam's mom Melissa Eggers informed the Blazers of the seeming coincidence, and the team responded by sending the youngster an autographed pennant.
Adam now watches the Blazers' games on television, and to keep the good luck flowing he grasps his own basketball in a very special way.
"I sit like this," he says, demonstrating the special lucky stance -- legs crossed Indian-style with both hands firmly on the ball. "I hold the ball so it says NBA extreme at the top and the player dribbling the ball is halfway to the ground."
Eggers isn't exactly sure why the routine helps spread good fortune to his Blazers, but he's glad it's working.
"I don't know," he said. "Maybe my basketball has something in common with their basketball. It's pretty sweet."