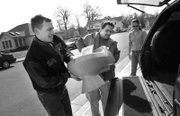 DALLAS -- Dallas homeowners will find their lawns used as bathrooms unless they give up some money.
All the energy of the Dallas High School Interact club is going into the toilet. With a plan worthy of the Mafia, club members decorated a commode and have started making the rounds with it.
The concept is simple -- if you don't want a toilet in your yard, you donate to Interact, a Rotary International club. If you do donate, you can send the toilet to another home of your choice.
All this potty business goes to a good cause, said Interact member Sirpa Peterson, a Dallas High senior. The money raised will help students in Mexico's Colima state get an education.
Forbes Plumbing of Dallas donated the wide, low-backed porcelain throne.
The toilet's movement is no small chore. "I can move it myself, but it's pretty hard," Peterson said. "Two people can move it easier."
Interact members have anticipated even the most unlikely response to the toilet gag. "We considered that people might actually want to keep it," Peterson said.
So far, that hasn't happened. Interact students have found donors more than happy to send the toilet to another unsuspecting victim.