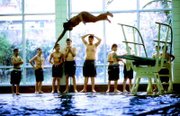 DALLAS -- The Dallas Aquatic Center is the envy of pool managers across the region.
But all that envy requires a lot of green.
All aquatic centers face huge energy bills and staffing costs to run safely and smoothly. In Dallas, the aquatic center costs more than $750,000 to operate.
That's more than the cost of running the library and the city court. Combined.
It's more than three times the cost of maintaining city streets and more than $200,000 above what the fire department gets.
This year, a tight budget has made every city service get a closer look.
"Typically, public pools don't make money," said consultant Kevin Johnston, aquatic director for Washington State University. Johnston has worked with Dallas Aquatic Center officials to cut costs and help bring in more money.
"The pools are a part of public service."
The aquatic center serves as a valuable community center, said Janet Hutchison. As Dallas' former recreation coordinator, Hutchison managed the old outdoor pool for two years.
"Even if I never stepped foot in it, it would still be a good use of tax dollars and a good thing to do."
Dallas residents use the center at a discount, $4.50 for adults, as compared with $6 for nonresidents.
That cost still puts Dallas' at around twice what some centers charge.
Dallas city officials hope to recover at least half of what they spend on the center through admission fees. The center currently pulls in closer to 40 percent of what it spends.
In 1998, Dallas voters had a say on building an aquatic center. The city pool had reached its inevitable end.
Voters approved a $5.7 million tax to build the aquatic center, but rejected an extra million to run it.
The city council decided on an ambitious plan to run the center from the City's general fund. Councilors opted to soften the strain on the general fund by dipping into "rainy day" money for three years.
While city officials took on the expense, others raised eyebrows.
Polk County voters had a similar choice two years earlier. county officials asked for $8.5 million to build a new jail and $1.5 million to run it.
To County Commissioner Ron Dodge, the jail could only proceed with the building and the operating dollars in place. "We would have never built it unless we had both of them."
Dodge, himself a former Dallas city councilor, said the plans should have stopped when voters turned down the operating tax.
"Just because you can build something, if you don't have the financial resources, you shouldn't do it."
ECONOMIC PICTURE
In a time of budget cuts to the library and recreation programs, aquatic center expenses have risen. To offset these costs, the center needs to bring in $100,000 more this year than last year.
Marketing the center aggressively should help, said City Manager Roger Jordan, Dallas' budget officer.
The most recent data show more people using the pools, Jordan said. The center had between 1500 and 1800 admissions per week throughout April. That's around the same number of people who use the public library.
March had even more swimmers, Jordan said, due to spring break and increased weekend use. February averaged around 1,000 admissions per week.
The Dallas Aquatic Center has a broad appeal, Jordan said, with five total pools suited for youths, therapy, and competition. Most swim centers in the region, except for Corvallis, have a more traditional setup, with only one or two pools.
Dallas also charges more than most, including Corvallis.
Other aquatic centers operate from park betterment funds, special funding districts similar to school boards, or tax levies.
A park betterment fund helps McMinnville officials keep admission costs down, said Recreation Manager Rob Porter. The McMinnville center charges $2.50 for adult residents or nonresidents.
Porter said a lower cost keeps swimmers coming back. "Pools sustain themselves on repeat business."
"If you have to pay 4 or 5 bucks a time, how often are you going to go back?" he said, "especially as a family."
Canby's will put its swim center to a vote later this month. If voters don't approve the $1.2 million levy, Program Coordinator Nathan Templeman said, the pool will close.
At least for this year, Dallas officials won't seek an operating levy, Jordan said. "The budget is depending on what happens in the economy.
"We're counting on it getting better."