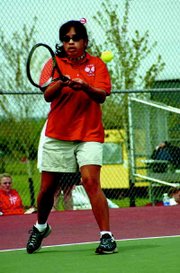 INDEPENDENCE -- Central's girls played some of their best tennis of the season in the Capital Conference tournament on May 4 at Stayton.
Sherry Pfaff, seeded No. 3 in singles, received a bye in the first round and won 8-3 (pro-set scoring) in the second round. She was eliminated with an 8-6 loss in the third round.
Rolida Anni of Central won her first-round match 8-3 but then lost 8-4. Elena Vesco romped to an 8-1 win in the second round, had a bye in the second round and then lost 8-1 to the tournament's top-seeded player. Georgeanna Alemany, playing because Tracy Lee was taking the SAT test, lost her first two matches.
"I was very pleased," Central coach Patty Youngren said. "Elena was very happy with the way she played, and sherry was happy with the way she played in the first one but thought she beat herself in the second one.
"Georgeanna's wrist was hurting really bad. She has tendonitis in her wrist. She probably shouldn't have played so much this season, but she didn't want to give up."
In doubles, Central's top team of Corissa Kunze and Janna Moser, seeded second overall, suffered a 9-7 loss in the first round.
"The girls couldn't play against a team that hit the ball soft," Youngren said. "The timing was off for them. That was a very difficult match for them. They were up 3-0, and all of a sudden they took a nosedive. It wasn't bad play at all. It was just intense play on both sides of the net."
Kunze and Moser then won two matches to reach the consolation championship, coming up just short 6-3, 2-6, 6-4.
The good news is that Kunze still made it to the prom on time even after all of that tennis.
"We got back in town at seven o'clock," Youngren said, "so she had an hour to spare."
Central's other three doubles teams -- Jena Ainsworth and Jessica Kasprzyk, Mica Oliveros and Tracy Johnson, and Amanda Kunze and Kendra Kunze -- all split two matches.
Central now will send the same lineup to the District 8 Tournament on May 9-10 at Black Butte near Sisters except that Lee will replace Alemany at No. 4 singles.
"It will be a very difficult competition," Youngren said. "There will be 13 teams there, and three of them are coached by (tennis) pros. what I'm looking forward to is coming head-to-head against some of our colleagues from our conference. We're all so evenly matched, anyone can win on any given day."