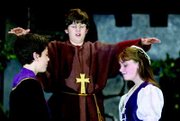 DALLAS -- It's not every day a 16th century jester in a floppy purple velvet hat, complete with jingling bells, walks down the halls of LaCreole Middle School.
But Chelsea Retkowski didn't seem to mind the attention and giggles he drew.
"It's actually quite comfortable," the sixth-grader said.
Retkowski donned the costume to play a role in the sixth grade's annual presentation of one of Shakespeare's plays. This year the sixth graders performed a condensed version of "Romeo and Juliet."
Joel Shetterly, playing Romeo, said he wasn't too nervous about his part.
He feels like an old pro at Shakespeare after playing Lysander in a production of "A Midsummer Night's Dream."
"It's been really fun," he said. "This is actually the same costume I wore as Lysander."
He and sixth-grader Samantha Cagle as Juliet got through the romance-filled words in the famous balcony scene without a blush or a giggle, but his luck didn't hold when it came time to fight with Russell Doherty as Tybalt.
Shetterly boldly cried "A sword, Benvolio!"
Steven Thomson as Benvolio tossed it to him, but when he picked it up and began dueling, the prop sword broke under a vigorous blow from Tybalt.
Benvolio gamely tossed Romeo another sword and the scene went on, but the audience couldn't refrain from tittering.
Despite the minor mishap, the show went smoothly.
"Of all the years I've done this, I'm less worried about this group than about any other year," sixth-grade teacher Janet Lebold, who directed the show, said just before curtain.
"It seems like something like [the dagger breaking] always happens, and it's just good for a laugh," she said afterward. "They did a great job."
Lebold has been doing this for five years. For the last several years, her students have performed "Macbeth," but this year she decided to do a different play. The performers in the play are always members of one of her sixth-grade reading classes.
"I thought this would be something interesting and challenging for them," she said.
The preparations begin in February, when the students learn about William Shakespeare, his plays and his life.
Lebold combines simplified scripts of Shakespeare's plays with more difficult ones that contain more of the original text.
"I try to keep as much of the language as I can, and keep in lines that they might have heard, and otherwise never know that Shakespeare wrote," Lebold said,
"But at the same time I have to keep in mind what the audience will understand."
The students performed once in the morning for the other middle-school students, and again in the evening for their parents.