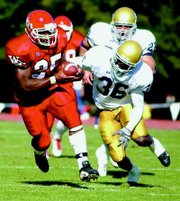 MONMOUTH -- Western Oregon fell prey to an opportunistic UC Davis team Sept. 28, losing 64-20 in non-conference football play.
The Aggies returned two interceptions for touchdowns and also scored touchdowns in the air, on the ground and on a kick return.
And most of that was in the first half. After an early 7-7 tie, the Aggies scored on six of their next seven possessions to take a 44-7 lead at the break. The Wolves managed to score field goals on their first two possessions of the second half, but never put a serious dent in the UC
Davis lead.
"They took advantage of pretty much every opportunity we gave them," said Western Oregon head coach Duke Iverson. "We have to give them credit for making the most out of everything that was presented to them."
The Aggies, ranked 10th nationally in the AFCA Division II poll, were expected to attack Western Oregon's pass defense. But instead they ran the ball their first seven plays, pounding 71 yards for a touchdown. That offensive balance and kept the Wolves' defense from keying on the pass. UC Davis ended up with 199 yards passing and 168 yards rushing.
After Western Oregon's first drive stalled, Lucas Taroli's punt was rolled dead at the Aggie 5, and two plays later the Wolves' Joe Panuke forced a fumble by Matt Massari that WOU's Lance Donnelly recovered at the 12.
Western Oregon punched in a quick touchdown on a pass from Denny Bies to Damien Cole for the tie. But UC Davis scored 37 points in the final 18 minutes of the half to blow the game open.
Western Oregon was unable to establish its running game, with a net loss of 10 yards at halftime, and its passing game suffered as a result.
"After we got down early, of course that pressured us to throw the ball more than we might have liked to," said Iverson. "And a couple passes went astray and ended up as touchdowns for them. That just made it tougher for us to maintain any offensive balance."
Western Oregon did out-gain the Aggies in the air, 249 yards to 199. Starter Denny Bies completed 12 of 25 passes for 98 yards, with one TD and two interceptions before leaving the game with an injury late in the second quarter.
Bies' replacement, Mike Baird, was 8 for 16 for 151 yards, with one TD and one interception. Brad Satran led all receivers with seven catches, and Mike Hinshaw hauled in a 60-yard touchdown from Baird on a deep sideline pattern late in the third quarter.
The loss was Western's third straight after a season-opening win against Mesa State. It was the first home game of the year for the Wolves, who will take a week off before traveling to San Diego on Oct. 12.