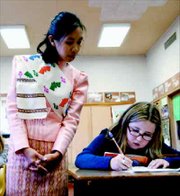 "Do you celebrate Christmas?"
"Do you wear your Thai dress everyday?"
"What year is it in Thailand?"
"Are your numbers like our numbers?"
When Natchanika Maneesawet lectured in Chris Lund's fifth-grade class, these are just a few of the questions she got.
While Natchanika -- or Naddie for short -- was speaking about her home country of Thailand, students wanted to know everything from the weather, to religion, to pop culture.
And Naddie was more than happy to share.
She answered their questions explaining that Thailand is a Buddhist nation so they don't celebrate Christian holidays like Christmas.
She explained how she didn't always wear her traditional dress, that she could dress casual as well, and that the year in Thailand is different because it is based on Buddha rather than Jesus.
Then she took a moment to show the students Thai numbers on the overhead.
Dressed in her traditional Thai dress, Naddie gave the class their first Thai lesson. Each student was given a packet on the basics of Thailand.
It had information from the geography and climate, to the traditional food and sports of Thailand.
The students were more than interested to learn about Thailand and about Naddie.
Naddie is on a one-year teacher exchange through American Field Service, commonly known as AFS.
While she is here, Naddie will be teaching in, and helping out in Mary King's fourth-grade classroom at Lyle Elementary School in Dallas. She will also be giving lessons to the other third-, fourth-, and fifth-grade classes at Lyle.
"I teach about Thailand, and I have many subjects to teach about Thailand," Naddie said. "Like Thai art, Thai food, Thai culture and festival, and even how to speak Thai just a little."
"We're hoping that she will be able to go to even some of the other schools too," Carol Mannen said. Carol and her husband, Paul, are Naddie's host family.
"We've always believed in the exchange program for students, and we had students when our children were growing up," Mannen said.
"We thought when Dale (Derouin, the local AFS director) asked if we would be interested we had no reason to say no really. We have a large enough home, our children are grown and married, and we're just learning a lot."
In Thailand, Naddie went to college for four years to become a teacher, and she taught there for two years before leaving for America.
This trip is Naddie's first out of Thailand and she is missing home quite a bit. She said that for her first time away from home she is feeling very homesick.
She is used to living with her family in Thailand because in Thai culture children stay with their families until they get married.
"Naddie usually comes home from school and goes to the computer to do her e-mails and communicate with her family and friends," Mannen said.
Although she is homesick, Naddie is still enjoying her teaching experiences here. After teaching in America for only a short period of time, Naddie has already noticed quite a few differences between the two school systems.
"The schools are much more relaxed here," Naddie said.
"The students in Thailand are kind of respectful to the teacher, they don't talk a lot and are just quiet in the classroom. And when they don't understand something they just ask the teacher after class."
Another difference is that in Thailand all students, of every level, wear uniforms. Girls wear black skirts and white shirts and boys wear black pants with white shirts.
"Girls can only wear non-colorful earrings, no body piercing really, and in the school you only wear the uniform and no makeup."
Naddie will be in Dallas for a year and is hoping to learn a lot about American life and culture while she enjoys the small town.
"Dallas is the same as my city, my city is kind of a small city and there are many mountains and there are many forests.
"And I like it because it is calm and quiet. Naddie decided to come to America because she wanted to practice her English. She is an English teacher in Thailand where she teaches secondary school, like American middle school."
Naddie also finds it important that American students learn about Thailand.
"When I ask about Thailand, the students, they just know China, they know India, and they know Vietnam from the war, but Thailand is very near Vietnam but they never know Thailand," Naddie said.
"I would like them to know how big the world is, and how Thailand is different from their culture and how we can live together."
By Leslie Engle