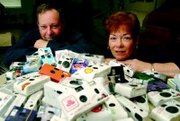 DALLAS -- CNG Disposable Cameras started as something of a whim about seven years ago, little more than a second thought.
But the fledgling business quickly took root and flourished under the care of Dallas couple Connie and Glen Harmison. CNG recently completed it's biggest single-sale transaction ever -- 107,000 cameras sold to State Farm Insurance.
"I remember at first when we bought 30 cameras at a time," Connie Harmison said. "Now, it's a minimum of 10,000. We were real excited when we first started and somebody called and ordered five cameras.
"When we were first starting, Glen decided to sell some on eBay. People were paying more for them on eBay than we were charging for them. Then, he decided to do our Website, and he did it all himself. That's when it all started. That's when it all escalated."
The rate of escalation was greatly enhanced recently when State Farm decided the disposable cameras might help reduce some of the fraud involved in automobile accidents and repairs.
The idea is that people will store the disposable camera in their insured vehicle. Should an accident take place, the camera would be there to visually record what had taken place.
It might, for example, keep someone from trying to claim whiplash or some other major injury in what was clearly a minor accident.
But the cameras might also help keep State Farm from being defrauded in another way. Some disreputable auto repair shops sometimes claim a vehicle was damaged more than it actually was. They then charge the insurance company for work that was not done and parts that were not used.
This would be much more difficult or impossible to pull off if the insurer had pictures showing exactly what was damaged when the vehicle went into the repair shop.
State Farm distributed 77,000 of the cameras to its policy holders in Nassau County, N.Y., in an experimental effort to reduce that sort of fraud. If it works, the policy could be extended statewide and perhaps even nationwide.
"We're hoping it will become a nationwide project with State Farm and other casualty insurance companies," Harmison said. "Everyone should have an accident camera in their vehicle to document the circumstances of an accident."
The State Farm accident cameras include the company's logo on the front and they also have an area on the back to record vital information -- others involved in the accident, their insurance company and policy numbers, etc.
But CNG also offers dozens of other cameras suitable for a variety of other occasions and events -- weddings, bar mitzvahs, holidays, etc. The camera itself is pretty much the same, but the outside covering is designed and decorated to suit the particular event.
"When you have a wedding, you don't want to put a yellow and black Kodak on the table," explains Harmison.
CNG also offers a few cameras for specified uses. There's a camera for underwater shots and another for long-distance shots. There's also one that snaps four separate frames in each picture. It's used mainly by golfers who want to get a look at what their own swing looks like.
The Harmisons might open some sort of store in the future but for now virtually all their business is conducted over their Website, which is www.cngdisposablecamera.com.
The Harmisons visited Hong Kong in 2000 to contact the manufacturer of the cameras, which are made in China and then shipped to Seattle. The Harmisons travel to Seattle to pick up the cameras, and then ship them directly out of their Dallas home.
"The UPS guy comes by our house every day," Harmison said.
Connie Harmison has a background in the insurance business and actually once worked for State Farm. Glen formerly worked for the Exide Corporation. Both Connie and Glen now are focused fully on CNG Disposable Cameras.
"We both work the business full-time," Connie said. "We love it."
And it all started in 1996 when son Morgan Fleming graduated from Dallas High School.
"We were in charge of getting cameras for the graduation party," Harmison said. "We located some cameras, and we bought 200 for the graduation party. At the same time, our daughter was getting married, and she wanted some cameras. Then our niece got married, and she wanted some cameras. We started thinking, 'Maybe this is something we should look into.'"
More like this story