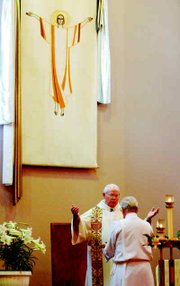 POLK COUNTY -- Sometimes death starts a new life.
Douglas and Virginia Nelson of Dallas learned that lesson in church.
What started at a friend's funeral 14 months ago, ended Easter Sunday this year with both Nelsons becoming full members of the Catholic Church.
They joined in interesting times. Church and state leaders found themselves clashing over war politics during the church calendar's most sacred season.
During Holy week -- the days leading up to Easter -- Catholics contemplate the life, death and resurrection of Jesus. This year, while reflecting on Jesus' suffering, they sent prayers to the suffering people of Iraq.
Pope John Paul II, the Roman Catholic Church's spiritual leader, spoke out against the United States-led war in Iraq. Anyone who gives up on peaceful options must answer to God, said a Vatican spokesperson.
The pope's Easter plea for an international rebuilding of Iraq set him again at odds with United States leaders. It also put him at odds with some conservative Catholic parishioners.
A gap between church members and the pope is perfectly acceptable within the religion, said the Rev. Galdino Monteiro, pastor of St. Patrick's church in Independence. The pope's comments serve as a guide, not an order, he said.
Photographs of Monteiro with the current pope, with Pope Paul VI and with Mother Teresa line his office wall.
When it comes to communicating with diverse Catholic groups, Monteiro's skills rival those of John Paul II. Born in Goa, India, a Portuguese colony, Monteiro grew up speaking his native Konkani and Portuguese, then Hindi and English when India took Goa. In his European studies, Monteiro learned Italian, Latin, Spanish and German.
He holds masses at St. Patrick's in English and Spanish. In whatever language, Monteiro delivers a difficult message: parishioners must make their own decisions on war.
A soldier may decide to serve in the hopes of freeing oppressed people, for example, or not to serve out of a desire to not kill them.
As battles in Iraq wound down, tensions at home remained high. "It's a real conflict for many people," Monteiro said. "Their sons and daughters are there and they couldn't avoid it."
Those very personal issues become larger social issues in cases like Iraq, Monteiro said. "I can't say that because Saddam Hussein is a tyrant that we should let these people die."
But he also won't recommend war as a way to freedom. "I feel what the pope says is quite right, because war should not be taken lightly.
"We should strive for peace at all times. There cannot be a reason to take even a single life of an innocent."
On Good Friday, the day Catholics observe Jesus' Crucifixion, some churchgoers struck a more moderate tone.
George and Marjorie Taray of Independence came to St. Patrick's Friday mass to contemplate Jesus' suffering and the suffering of those touched by war. "We've lived through so many wars that each one becomes more tragic," George said.
The Pope's opposition to war stayed strong as the Iraqi resistance waned. The Tarays' reasoning likewise remained constant, even as they accepted new realities.
"We didn't support the war either," George said. "We don't believe it was justified."
"But now that they're over there," Marjorie added, "we support our troops."
That support includes praying for a safe return and for peace.
That's the ultimate goal, said parishioner Jim Fessler of Monmouth. "All Catholics are interested in world peace," Fessler said.
Fessler would have preferred to see United Nations approval for any military action. However, he feels war sometimes can help prevent future catastrophes.
"Most of us are behind the decision to go to war, even if in the back of our heads we have our doubts," Fessler said. "The thought that Iraq might be a world power some day is kind of scary."
Vera Amador of Independence said she opposed the war until a similar fear took her. "What's Hussein going to do if we leave him in power?
"Could this turn into another World War II?"
Religious persecution in Arab countries can justify war, Amador said, when the war brings freedom to practice religion. "Sometimes there's no other way to get your freedom but to fight for it," she said.
Monteiro questioned whether parishioners understood the justifications for war against the Saddam Hussein regime. "I don't know if it's clear for people why we are having this war," he said.
"For the last 12 years or so, Hussein did not attack. We're not sure if he has weapons of mass destruction."
Here again, Monteiro said, Catholics need decide for themselves whether the feel the war is justified.
In Dallas, St. Philip Catholic church pastor the Rev. Jerry Quintal raised the same point in a sermon. A soldier getting married and becoming Catholic had asked Quintal if his conversion would affect his service in the war.
"Everyone needs to take that personally," Quintal said. "Catholics need to make decisions on what they believe."
The pope wants everyone to seek peace, Quintal said, but a soldier might interpret fighting for justice as seeking peace. Quintal prayed for the safety of that soldier and all others and for an end to the war.
It's that inclusiveness that helped make Douglas Nelson want to join the Church. "It's a religion with different view points," he said "and we're not discouraged to reflect that."
That contrasts with the stereotypes of Catholics Nelson heard growing up Protestant. Catholics don't think for themselves, the rumor went, but fall in line with the pope.
Nelson has done a lot of thinking since taking his first steps to converting. For each prayer or ritual he learns, Nelson asks himself what those words and actions mean.
He's had help from St. Philip's. There, Quintal and pastoral associate Tom Amsberry lead weekly meetings designed to answer questions about their religion for those looking to join.
Nelson's wife, Virginia, also helps. She grew up Catholic and attended parochial school before lapsing as an adult.
When Virginia saw Quintal perform a funeral mass for a friend, something clicked in her. "I had really been missing the religious part of my life." She rejoined the church as Douglas joined.
Much has changed in the intervening years, Virginia said. As a child, mass was something you watched -- and understood only if you had studied the Latin spoken at church.
She feels a part of mass more than she did growing up. "Then, you were Catholic.
"But today, you feel more Catholic."
In the current political climate, becoming Catholic can raise eyebrows. Amidst a high tide of militarism, the Catholic church's moral opposition to war has drawn considerable attention. That's fine with Douglas Nelson.
For him, joining during a time of war makes the pacifism in the church's recent history more appealing.
In 1965, Pope Paul VI famously addressed the United Nations, asking world leaders to pledge "No more war; war never again!"
Three years later, Douglas, then 18, found himself on an aircraft carrier, loading planes to bomb Vietnam. He served until 1971.
That experience colored his view on handling Iraq. "Having gone through Vietnam and seeing the tragedy and the injustice, my first reaction was to let the weapons inspectors do their work.
"Let's try to do this without killing anybody."
In war, the enemy isn't always who -- or what -- it seems, said pastoral associate Amsberry. He encourages parishioners to look beyond war to the roots of hatred.
In Amsberry's view, destroying an enemy does little towards creating a greater peace. "We can hate Saddam," he said, "but as long as we hate someone, where's the transition?
"If we don't change the hating, we're stuck in the system and someone else becomes the enemy."
Catholic struggles do not involve weapons, Quintal said. They're often reflective, with individuals finding peace within themselves and then spreading it to others.
Lent, the six-week period leading up to Easter, provides a time for this reflection. Working for peace in one's own life can protect against hopelessness in the face of world affairs, Quintal said.
"Instead of giving up, you might feel challenged to do the work of charity," Quintal said.
By reaching out to others, parishioners can offer a different vision than those who would make war. "We should be building bridges instead of blowing them up."
Good Friday provides a bridge between parishioners' own struggles and Jesus' suffering on the cross, Amsberry said. "It helps people to see our own suffering is really connected, our pain is connected.
"There's a beauty in that, even in the horror of crucifixion."
In one Lenten sermon, Quintal read a tale of Judas, the apostle who betrayed Jesus, struggling thousands of years in the afterlife to lift himself from hell. When he finally clawed his way out of the deep pit, he found Jesus and the other apostles waiting for him to join their table.
They had waited for him before starting their meal.
To Quintal, being a Catholic means recognizing the good in every person and working to help them see it. That happens when people from all parts of the spectrum sit down together.
"We need to set a table big enough for both George W. Bush and John Paul II," Quintal said.
"Whom do I exclude from my table," he asked, letting the question hang.
"That's the story of Holy Week."