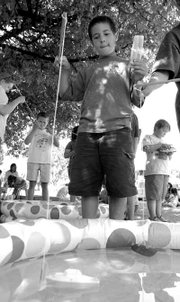 Fire department
Thanks Dallas!
This weekend, the Dallas Fire Department joined Summerfest to celebrate its 125 years of volunteer service to Dallas and Southwest Polk County.
We were honored to have our celebration selected as the theme for this annual event.
On behalf of the past and present members of the Dallas Fire Department, I want to thank the Dallas Area Chamber of Commerce for this honor.
I would be remiss if I did not thank all of the businesses, organizations and individuals who assisted in making our 125th anniversary, our 125th Anniversary Journal and the first-ever Oregon Vehicle Rescue Competition a success.
Finally a big thanks to the residents and civic leaders of Dallas for your 125 years of never ending support.
Eriks Gabliks, chair
125th Anniversary Celebration
Dallas Fire Department
Newspaper
Thank you for such a wonderful, local newspaper. My family is always happy to receive our subscription every Wednesday afternoon in our mailbox where we sit and find out what is going on in Dallas and the surrounding small communities who have little in the form of recognition when something of local interest occurs.
Which brings me to my question. Why would your newspaper have such little regard for the happenings of Summerfest 2003 that you would only place
seven (albeit full-color) photos and no (I repeat no) articles about the parade, Breakfast in the Park or the car show?
Was there no interest in the 125-plus official Parade entries this year (the most ever)? Were there no good stories about the countless hours of float-building and happiness applied to this year's entries?
What about some of our local citizens who have been around long enough to know what the first Summerfest parade looked like and it's comparison to current day?
I guess since there were no car crashes along the parade route, it was not newsworthy.
And what about the car show that brought in more than 200 entries from all around the Northwest and California (again, a new record)?
Again, much work went into the preparation of the Breakfast (Thank you, Dallas Rotarians) and all of the entrants who polished and buffed their shiny cars for a moment of glory.
Hundreds of people were in attendance.
And there was one tiny picture on the back page (and misnamed at that).
By the way, the picture is not of a 1937 Packard (which IS a beautiful vehicle) but that of a gorgeous 1914 Locomobile from Portland, which could easily have won best of show.
But then, how would your reporters know unless they stuck around for the awards ceremony? Again, no car crashes
here either (thankfully for the car owners).
I saw photographers all over the parade route. I saw the editor of the I-O at the breakfast. He must have forgotten his pencil and notebook.
You dedicate a third-page article to the history of the KKK. You would further dedicate another half-page article to the
former mayor of Monmouth who is away in Baghdad (which are both worthy articles, but could easily have waited another week to run) yet you neglect the two single biggest events in Dallas for the month of July, if not the year.
What a shame.
The I-O is a wonderful local newspaper. I do look forward to reading it.
I just wish that foresight put into the arrangement would be more geared to our population and feel-good stories, rather than shock journalism.
Robert Taylor
Dallas
Republicans
I "sort of" met a modern-day Republican July 29 in Salem.
I have the following items on display on the rear window of my pickup. A U.S. Army sticker (28 years), an American flag sticker and a sign that says "Let's Establish A Bush Family Tradition -- One Term."
The assumed Republican pulled up next to me on Mission Street and freely using the f-word told me I better take either the sign or the Army sticker off my window or he would "come over and take it off for me."
So you are asking yourself, "How does the writer know that this fellow is a modern day Republican?"
It is because the fellow is filled with hate, threatens those who disagree with him and does not have a clue what "freedom of speech" is all about.
Fred Brown
Dallas
Thanks
Muchas gracias to Christ's Church in Monmouth.
On July 24 and 25, Christs Church provided Oregon Child Development Coalition, a summer Head Start Program for Migrant children, with dental screening for 76 children and treatment for 24 children.
Christ's Church supplied Northwest Medical Team's dental van and volunteers to assist with the screening, lunch for OCDC staff and "goody bags" for the children.
Dentists Michelle Hasbrook and Ken Winokur donated a day of their time to screen and treat our children. They were joined by volunteer hygenists Kari Sampont, Tanya Arthur, Beverly Davis and Bekah Heinz.
These professionals donated thousands of dollars worth of dental treatment to our low-income children.
We thank you for your gentleness and kindness shown to our children and your support of our Migrant families and our Head Start program.
Atentamente.
Lucy Perez Wilk,
director
OCDC Polk County
Martha Rios, RN,
health manager
Hospital
Although going to a hospital is not something I look forward to, I recently had such a good experience at West Valley Hospital here in Dallas that I thought I should say something about it.
Everyone on the staff who I encountered at West Valley was very professional and very pleasant.
Staff members from, receptionist, to nurses, to anesthetist, to doctor, to volunteer aides knew their jobs and did them very well.
Procedures were explained in detail and I was asked several times ifI had questions or if anything could be done to make me more comfortable, or to set my mind at ease.
My entire visit was a very positive experience.
Dallas is lucky to have West Valley Hospital as an important part of its community.
Not only is it more conveniently located for Dallas residents, but the services that it offers are as good or better than can be found elsewhere. And, the personal touch is great at West Valley.
Thanks West Valley.
I probably won't ever relish going to the hospital, but I know I'll be treated well at your establishment when I need any of the hospital services you offer.
Paul Mannen
Dallas
Bowling
Starlite Lanes is about to change hands.
Our family has greatly appreciated the support of all the area communities in our business the last 12 years.
We have enjoyed meeting all of you and hopefully have given you some moments of family fun during that time. We are going to retire and enjoy travelling around our state and country. However, we will still be living in the area. It's a super area.
Don and Fran Moss
Dallas
Sodomy
I was not surprised that the Supreme Court overturned the Texas sodomy law.
The law was largely irrelevant anyhow and was only enforced in the case at hand by accident. But the public was treated to the spectacle of the nine black-robed justices of the highest court of our land carefully deliberating a case that involved a $100 fine.
No prison time was involved. Just the same fine you might get for driving too fast.
Not that long ago, the Supreme Court decided a case in which they ruled that the Constitution does not protect a right to commit sodomy.
Now they have overturned that decision, effectively making sodomy legal in all 50 states. Oddly, few seem to mind. They felt that the sodomy law should go.
What has gotten the most attention is the basis of the decision -- the right to privacy.
You may be wondering what informed the learned justices in their decision.
Anthony Kennedy, writing for the majority said, "Our obligation is to define the liberty of all, not to mandate our own moral code."
This is a peculiar statement to me because moral codes lie at the root of all law.
The court had no qualms about mandating a moral code when it put an end to segregation. Kennedy observed that the Texas laws do more than prohibit a particular sexual act. "Their penalties and purposes," he said, "have more far reaching consequences, touching upon the most private human conduct, sexual behavior and in the most private of places -- the home."
Then he went on to say, "In all events, we think that our laws and traditions in the past half-century are of most relevance here."
If you have done your math, you know that means -- the laws and traditions we have developed since 1950.
So it is not the Constitution of the United States, but the spiritual and moral values established in the last 50 years that were the most relevant in the decisions of persons serving Americans on this highest court.
Are the people the enemy?
The Supreme Court is holding a mirror and permitting us to look ourselves in the face. The court has used our own tradition and the last of the past half century to determine new rights in the Constitution.
In the mirror we see those other rights of a depraved society.
What other new rights can we expect in the near future?
Justice Scalia, God bless him, in a vigorous dissent, concluded that we have come to the end of all moral legislation.
"If the court asserts that the promotion of majoritarian sexual morality is not even a legitimate state interest, none of the above mentioned laws -- prohibiting fornication, bigamy, adultery, incest, beastiality and obscenity -- even cohabitation, can survive basic review."
These are issues such as keeping sex offenders away from our children.
Ralph Cater
Dallas