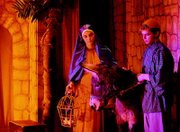 RICKREALL -- You'd think there would be some sign of anxiety that goes with performing a play, particularly one that's drawn people from across the Willamette Valley for 63 years and has had write-ups in newspapers and national publications.
If there is, you couldn't tell the evening of Dec. 8. The mood backstage for those involved in the Rickreall Christmas Pageant was for the most part, relaxed and laid back.
After two months of preparation, the cast and crew delighted an audience of about 150 during the official dress rehearsal, which is basically considered opening night.
The performance was the first at Rickreall Elementary School since it shut down in June.
The 30-plus person choir kicked off the pageant, marching into the dimly-lit gymnasium in a candle-lit procession, singing a rousing rendition of "Come All Ye Faithful."
As the scenes from the play -- a retelling of the birth of Jesus -- progressed from the prologue to the gathering at the home of Elisabeth and Zacharias, director Julie Bunnell watched from an open door at the back of the gym.
Bunnell had joked before the play about the last minute pep talk she gives to the cast, where she pauses for a moment of silence, "and to pray everything goes well."
By the half way mark, she seemed to think everything was going according to plan.
"So far so good," she said. "There was a mix-up in one scene. We had some extra neighbors in scene five, but everything else is fine."
Bunnell said she was working a little short-handed on this evening. Her stage manager, Myrna Johnson, who's been involved in the play "off and on" for 47 years, was out ill.
Bunnell also said there were several new faces in the play this year.
"There are a lot of adults doing this for the first time, so we're telling them to watch the others if they need to," she said.
Tom Keck, a veterinarian at the Dallas Animal Clinic, was one of those first timers. He played an inn keeper in one scene, a part with no lines but a lot of pantomiming.
"He's going to ham it up," said his wife, Maggie Keck, also in the pageant. "He's good at that."
It's not unsusual to have entire families taking part in the pageant, sometimes in the same scene.
Sharon Watson's family has populated the King Herod scene for years, with Sharon playing the singing slave girl, her husband, Rod, the king, and her three sons as fan boys.
Her daughter, Valerie Baxter, performed the role of the slave girl Monday night, though not in the best of health.
"I've got a cold and have almost lost my voice," she said softly before the pageant began. Baxter's part includes a song and harp solo.
"If my voice is gone, I'm just going to have to play the song," she said, adding that that wouldn't be a problem.
"My mom did this part for 17 years," she said. "I grew up hearing it, it's like a Christmas carol for me."
Most of the veteran cast members have no problem slipping into their old roles, even though they only get to do so two or three times annually.
Milt Serafin of Dallas has played Zacharias, the father of John the Baptist, for 12 years. He said reprising a character in the pageant for him is sort of like riding a bike.
"Once you learn it the first time, you pretty much have it down," he said. "It just comes back to you after a while."
Myrna Johnson first took part as a child in 1947, and has stayed involved many capacities, though acting was never one of them.
"I never had a speaking part," Johnson said recently, though she did get to be in the angel's chorus as a grade schooler.
"I don't really sing though. I remember the choir leader saying, "Myrna, why don't you just hum along?"
Each participant seems to have their own favorite aspect of the play, whether its the history behind the sets and the script -- unchanged since 1938 or the vintage costumes.
Sharon Watson, who's portrayed Mary for 29 years -- "You can work wonders with stage lighting and makeup" -- enjoys the spiritual and religous themes, saying its a wonderful affirmation of faith.
Milt Serafin of Dallas, who tackles a couple of key roles including Zacharias and King Herod, said he's impressed most by the talents of the 31 individuals who make up choir.
"That's the thing that puts it all together," he said. "They really do an outstanding job."
One thing they all agree on is the sense of community that comes with being in the play.
"We all live busy lives," Serafin said. "So for some people, this is about the only time of the year when you can visit with your neighbors."