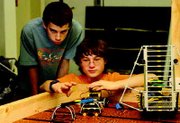 INDEPENDENCE -- George Taray, J.J. Cooper and Chris Payton gather around a long wooden table littered with an assortment of small ramps, craters and a catapult inside a classroom at Talmadge Middle School.
They ready a robotic LEGO vehicle, a wheeled contraption about the size of a shoebox that Taray refers to as the "Big Yellow Block."
The three boys, along with five of their classmates at Talmadge, built and programmed it to perform a variety of tasks without the physical assistance of an operator.
Right now, they're trying get their creation to travel down the table and load a red ball into the catapult using its cradle attachment.
It works, Taray, 13, said, when it moves to its intended destination in a straight line. Unfortunately, the vehicle keeps veering slightly off course, and bumps the catapult as it tries to drop its cargo.
"It's the motors," Taray explains. "We have two motors on it and they're moving at different speeds. That's why it's turning."
The boys talk about redesigning the base of the vehicle or reprogramming it, throwing out terms like gear differentials and limited slip drives to correct the problem.
A discussion like this would be Greek to most middle school students -- or adults for that matter.
It's shop talk, however, for the three boys and other members of the Mars Eaters, an eight-person team of seventh- and eighth-graders that meets after school twice a week to build working robots for competition in Oregon's FIRST LEGO League.
Scott McCannell, a resident of Independence, serves as the kids' mentor. He said for the two months he's been with the group, it seldom fails to impress.
"It's exciting to be working with kids that are that motivated and that sharp," he said.
FIRST LEGO League is a national program created to introduce young people to the basic concepts of engineering and science. A couple of months ago, organizers of the league's competitions in Oregon approached McCannell and his Corvallis-based company, Sanda Communications, about running the event in Corvallis.
It appealed to McCannell, who said the activity makes for an effective gateway to science.
"One of my main reasons for doing this goes back to the old egg-drop project in high school physics," he said. "While I don't believe this is the only way to teach, I do think it's important because it gives kids a concrete example of a concept."
There was one problem; McCannell wanted to be a coach. He said the organization was, at first, interested in him helping to administer the program.
"I'm known around [work] as the toy guy," he said. "I'm a LEGO fanatic, I play with robotics. I wanted to teach kids to build and program structures...I thought that was more fulfilling."
McCannell, who works with math students at Corvallis High School, said he wanted to do something with kids here, so he approached Talmadge in late September about forming a team. The school agreed, partially funding the equipment and staff using monies from its federal GEAR-UP grant, with McCannell picking up the rest of the tab.
McCannell said about 25-30 kids initially showed interest in joining the program after he brought a few of his own LEGO robots to the school for a demonstration.
Taray was one of them.
"It was cool," he said. "He did the demo and showed us some clips...plus, I've always liked playing with LEGOs."
Gwyn Black, a seventh-grader and the only girl on the team, said she skipped McCannell's presentation because she thought it was all about robotics. She changed her mind, however, when she heard they'd be using LEGOs.
"I've been building things forever," Black, 12, said. "I've been stealing my brother's LEGO sets because I didn't have any...my grandma didn't even know I liked LEGOs."
At the beginning of each season, the league issues a primary mission for all teams to complete. This year, it's building a rover capable of performing a series of tasks that ties in with NASA's unmanned exploration mission on Mars next month.
"It's not easy," McCannell said. "A lot of kids come in and say, 'I'm an expert at LEGO building,' which most of the time means they're good at following the instructions or putting together something that looks cool. But when you're trying to build to accomplish something, it's a challenge."
There's also a written research project, in which the group is trying to create a dwelling that would allow a person to live comfortably amidst the sub-zero temperatures of the red planet.
Ingrid Rivera, a teacher at Talmadge and another coach for the team, said the program has helped broaden horizons, even hers.
"I'm a language arts and social studies teacher," she said. "I think I've learned a lot about technology from this and the kids have learned a lot.
The Mars Eaters built their robot using the LEGO RCX, a big brick with a microprocessor inside, and other advanced LEGO parts that include motors, wheels, gears and even sensors that respond to touch, light and gear revolutions.
The machine's different functions -- physically connecting structures built from LEGO blocks, carrying objects and "dusting off a solar panel" to name a few -- are created using software that lets users relay commands from an infrared tower connected to a computer to the robot.
"It's not that difficult," said Taray, who noted he'd never done much computer programming before he joined the program. "You just drag and drop the commands."
McCannell has taught the students about engineering design and basic physics principals, but said his main role is to guide them and let them come up with their own solutions to problems.
"I'll tell them, 'If you see that something isn't working, don't keep running it in the exact same way until it does,'" he said. "Find out what the problem is and how you can get control over it."
Taray said one of the most important things the team has learned from its experience is creating a robot design that's functional.
"You could have a really good design, but it doesn't matter if the thing doesn't work," he said. "There's no point."
Those lessons served the Mars Eaters well at their first league competition in Salem Dec. 6. They came away with an award for best design for integrating different sensors that allowed their creation to react to different obstacles on the challenge course.
"I think they impressed the judges by doing that, having a robot that can think a little bit, as opposed to the cars you just line up to go, then pull back when it finishes its task," McCannell said.
The team also advanced to the state finals in Hillsboro next month.
"We were all pretty surprised -- we were just happy to get a [participation] ribbon," Chris Payton, 13, said. "Then they called off who was going to state, and we're all like 'Whoa!'"
The team has about three weeks to prepare for that tournament, which means touching up their research project and getting the "Big Yellow Block" moving in a straight line.
Twelve-year-old J.J. Cooper eventually gets the robot to the catapult without bumping it, by simply shifting the angle the vehicle takes off from.
"I don't think it needs more programming," he said. "If we tilt it in one direction, it should do what we need it to."