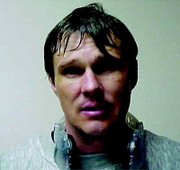 POLK COUNTY -- Polk County is getting a new resident Wednesday, Feb. 19. County officials think there's a good chance he'll sexually assault another child.
Larry Lee Edwards, 39, is finishing a prison term for kidnapping and sodomizing a 12-year-old boy in Polk County in 1985. He was convicted of a lesser sodomy charge involving two 9-year-old boys in 1980.
Edwards is one of five or fewer people the state parole board considers a "sexually violent dangerous offender," the most serious designation possible.
"We're releasing him because we absolutely have to," said parole board Chair Diane Rea. "We haven't decided he's a good risk to be out -- we just have no legal authority to keep him in any longer."
Recent evaluations show Edwards is just as psychopathic and sexually deviant as he was in 1985, Rea said. "Those things rarely go away -- and being in prison doesn't usually make you better."
Edwards first has to find his way to Dallas from the Santiam prison in Salem. He will be under supervision in Polk County, where he committed the crime, for six months.
After he checks in with Polk County Community Corrections, Edwards needs a place to stay. Since the county has no sex offender housing, Edwards will need to find his own housing.
"We approve the housing, we don't furnish it," said County Commissioner Tom Ritchey.
And he can't stay in the county jail for long. Edwards' sentence ensures he won't spend more than half his first six months out of prison in jail. If he serves 90 days in jail, he can then violate the terms of his parole without worry of consequences.
As part of his parole, Edwards must stay away from places children may congregate, not have contact with minors or his victims, go to all appointments with his parole officer and therapists and not leave the state without authorization. He will have a nightly curfew.
After six months, Edwards will no longer be under any supervision.
The last time he was released to Polk County, in 1998, Edwards lasted only one year. He returned to prison in March 1999, after failing six polygraph tests asking if he had contact with minors.
"My main concern is making sure we provide the most adequate supervision possible and hold him accountable to each and every one of his behaviors," said Community Corrections Director Marty Silbernagel. "He knows the history of Polk County Community Corrections."
"Polk County is a good place for him to be," Rea said. "They do a really good job with offenders.
"The community should take some comfort in this."
If there's any comfort, it's in awareness, Silbernagel said. "The best supervision plan for Mr. Edwards is for everybody to be aware that he is going to be in the community.
"Having many sets of eyes watching is better than just a couple of ours."