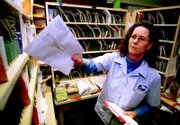 DALLAS -- Morrie Bart's office doesn't handle junk.
Dallas Post Office employees regard the j-word as a four letter word, gasping in mock horror when a customer gripes about unwanted mail.
"We tell them `someone thought it was important enough to pay postage on.'"
In his 10 years as Dallas postmaster, Bart has earned the trust of all sorts of customers. The plaques on his office wall speak of appreciation, excellence and achievement.
More importantly, he doesn't stay in his office and admire the awards. He's out there addressing people's questions and concerns.
"We're very accessible to complaints," Bart said. And constantly trying to prevent them.
Customers don't always see Bart when they come to the post office. "As a manager, your work is done through others."
But he keeps channels of information open between all employees. In this way, problems get corrected before they surface.
As a result, Bart said, "complaints are almost nonexistent."
Though he provides a service often taken for granted, customers still remember Bart. He's been asked to explain his popularity at a regional postal services meetings.
"It's not just going beyond what the customer expects," Bart said. "I'm very generous with my customers."
Generous means finding out why someone's daughter isn't receiving her mail, even when she's away at college using a different post office. It means tracking down expensive merchandise in a faraway company's mail room -- even though the postal service did its job just by getting the package where it should have.
The post office is a different institution than when Bart took his first job as a clerk in 1965. For one, it's no longer a department of government.
The post office draws no tax dollars, relying on sales of stamps and services to fund itself. "Occasionally we'll get someone in here saying `you know, I pay your salary.'
"I tell them `you must buy an awful lot of stamps," Bart said.
His job makes Bart often rely on his math and analytical skills. But he values highest his people skills. "You need to almost be a psychologist to get the job done."
That means respecting those he does business with. "I really regard the people we deliver mail to as customers."
Without them, there would be no postal service. "Each person is the next piece of revenue -- we need to satisfy them."
Growing up in southern California, Bart never dreamed of becoming a postmaster. He went to college for electronics, clerking part-time for the post office after his father fell ill with cancer.
Soon, his graveyard shift made him cut down to only 11 college credits, one below a full-time student. No big deal, Bart thought.
The draft board thought otherwise.
Within two weeks, he had a letter telling him to get packing for Vietnam.
When he got out of the Marines in 1968, he wasn't sure what to do. He was surprised to find out the post office he had spent a few months at before enlisting was required to rehire him.
In terms of seniority, they treated him as if he had spent the last three years in a postal uniform, not a Marine one.
Using his electronics background, he became a technician within the postal department. At that time, post offices were swamped with mail they couldn't process fast enough.
As a troubleshooter, Bart saw the postal department through modernization. He witnessed the eras of vacuum tubes, transistors and eventually microchips.
His job was going well. He was starting a family. But Bart needed a change.
Having once passed through Oregon on a road trip, Bart had fallen in love with the state. His opportunity to move came in 1975.
One day, the 18-mile 75-minute commute home from Los Angeles got to him. He sat in traffic, trapped in a 1971 Chevrolet Caprice with a broken air conditioner on a sweltering day.
By the time he got home he'd had enough.
"I got in the door and told my wife `that's it -- we're done.'"
If Oregon soothed Bart's soul, it didn't help his wallet. He gave up his seniority and started over as a postal clerk in Corvallis.
"My friends had two reactions: one was that I'd lost my mind. The other was they wished they had my courage."
Not content with only an eight-hour work day, Bart took up farming in 1978. He bought a farm near Sheridan, growing apples and prunes as he worked his way up through postal jobs.
When postal reorganizations bumped Bart out of his Salem plant manager job, he applied to become a postmaster. Though he couldn't choose the location, he appealed for a job closer to home.
On Feb. 5, 1993, Bart officially became the new Dallas postmaster.
Having stuck with a changing postal service, Bart sees communication advances in perspective. "Every time a technological improvement has affected the post office, we adjust to better serve people.
He won't bite his nails waiting for the next innovation. Bart plans to retire in two years at age 59.
With 40 years under his belt, he'll leave confident as ever in his job's importance. "Mail was first delivered on foot, then in carriage. Then you had the telegraph, telephone, fax, and now you have the Internet -- and we're still in business.
"Having mail in your hands is just as valuable as it ever was."