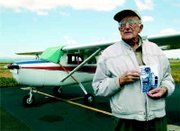 INDEPENDENCE -- In more than 60 years as a pilot, Myron "Bus" Buswell says that he has had everything happen to him.
Except being shot down.
As a pilot in the U.S. Army Air Corps' Fifth Bomber Group, he flew 42 missions and is now a decorated veteran. He earned the Air Medal with three oak leaf clusters.
"I'm very fortunate because I am still alive," Buswell said. "I am a decorated veteran but you can't put a cup of coffee on the table with medals."
He worries about the other injured veterans -- those left in hospitals without arms and legs.
"By God it has got to stop."
It was the longest air raid of World War II.
The target -- one of the biggest oil facilities in the Pacific. Destroying it would clear the way for the allies to retake the Phillippines.
As they started their raid on Borneo, the men of the 13th Air Force had no fighter support. There were about half a dozen missions before the oil facility fell.
Myron "Buz" Buswell of Independence was there. He flew a B-24 bomber as a pilot or co-pilot.
Buswell began his career flying in 1938 as part of the amateur airplane movement at the Beaverton Airport and held one of the few State of Oregon Pilot's Licenses.
The State of Oregon had a pilot's license that was available from the early 1930s until Pearl Harbor. Afterwards, the Federal Aviation Association took control of all pilot and plane licensing.
In 1944, Buswell joined the Army Air Corps and attended the air academy in Douglas, Ariz., with his cousin.
On Jan. 7, 1944, Buswell and his cousin pinned their wings on each other and were assigned consecutive serial numbers.
They both were also assigned to the same bombardment group of the Air Corps which was nicknamed the "Bomber Barons." That was even more unusual.
During his military career Buswell flew missions primarily in New Guinea and the Phillipines.
However, Buswell, and his cousin did not fly missions together, since they were not in the same squadron.
"War is hell. You can't have soldiers without them being killed once in a while."
After the war Buswell, bought a surplus biplane from the army and barnstormed in it. Barnstorming, Buswell said, "is going out in the pasture and selling airplane rides."
The plane that he barnstormed with was a Stearman biplane which he bought for $1,300. Buswell says that now that plane is worth more than $100,000.
Buswell continued to fly and when he had children taught them as well.
His daughter, Linda Buswell Dahl, grew up at the airport and learned to fly as soon as she could reach the pedals of the planes.
Now, after flying everything but a helicopter and logging more than 22,000 hours of flight time, the FAA has told Buswell that he no longer can safely fly.
Buswell was a hero, said military historian John Bruning of Independence, who interviewed Buswell for a video on the air war over the Pacific. The raids on Borneo were particularly important to the war effort, Bruning said.
"They did a tremendous job."
By Lauren Cone
More like this story