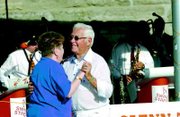 ♦
A special section offering a complete guide to Summerfest will be included in next week's Itemizer-Observer.
DALLAS -- Summerfest runs Thursday to Sunday, July 24 to 27, in Dallas.
Expect hot temperatures.
Heat is a Summerfest tradition. Temperatures rise as surely as the parade marches down Main Street on Saturday and Rotary Club members serve pancakes on Sunday.
A lot of Summerfest remains the same -- like a familiar old friend who drops by every July.
Look forward to more of the same, said Brian Dalton, past president of the Dallas Area Chamber of Commerce.
Only more of it.
Summerfest is growing. The parade this year attracted 125 entries. It attracted 109 last year. More and more entries keep coming in, Dalton said.
At least 40 of those entries come on horseback. National Guard leaders, alone, plan four or five parade vehicles.
Dallas firefighters stand to draw the most attention. Summerfest this year happens to coincide with the 125th anniversary of the Dallas Fire Department.
Firefighters plan to ride through downtown on fire vehicles dating back to the 1890s. A total of five vehicles will represent the history of the department.
Invitations went out to fire departments across Oregon. More vintage fire equipment may join the parade.
Dallas firefighters have more than the parade on their agenda. Their annual waterball competition takes on added significance this year as well.
Firefighters from across the state routinely get together during Summerfest for waterball competitions. They spray hoses at a suspended ball in a sort of reverse tug-of-war on Court Street. This year, more teams from more department will converge on Dallas.
Dallas firefighters are also hosting the regional extrication competition where their colleagues test their skills in getting people removed from trapped vehicles.
All this is in addition to the traditional book sale at the Dallas Public Library, teen dance at the Bank of America parking lot, live music at the courthouse and a host of other new and traditional Summerfest activities.
More vendors have signed up for the courthouse lawn this year -- selling everything from food to souvenirs.
One of the new vendors is the Willamette Valley Food Assistance Program (formerly Marion-Polk Gleaners). The program normally offers foodstuffs to households in need.
During Summerfest, volunteers will be manning a food booth.
Executive Director Kathy Chiles said they'll be selling hot dogs and sub sandwiches among other items. Special prices will be in effect during parade day Saturday, July 26.