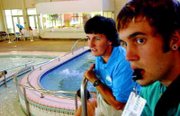 DALLAS -- Flexibility.
Whether it's moving arthritic joints or scheduling a work force that changes with the school calendars, Tina Paul deals in flexibility.
In fact, her job requires it.
Paul, the Dallas Aquatic Center's new supervisor, wants to get people talking about the center. "Word of mouth does a lot," she said.
"Hey -- this is your pool; come use it!"
Paul wants to make the pools attractive to everyone. Already, she said, families with preteen children and some older people in therapy programs have discovered the aquatic center. Teens and senior citizens tend to stay away.
"The older you get, the more set in your ways you become," Paul said. "Trying to get old folks to do something new takes some coaxing."
When older folks stay away from pools, they generally stay out of trouble. Paul won't say that as readily about youths.
"I want to target teens," Paul said. "If they're not doing something fun and recreational, they're bored.
"And if they're bored, who knows what they'll do?"
She wants to tie in school and social events with swimming, especially on school-year weekends. Students could go to a school dance, for example, and follow it up with a swim.
Children with disabilities could use the pool more, Paul said. She wants a program for them.
Paul wants to stress that people can use the pools for more than exercise and recreation. She helped turn around a lagging therapy program at Mittleman Jewish Community Center in Portland, where she had worked since 1988 before coming to Dallas.
She started as a part-time lifeguard in Mittleman's therapy pool and worked her way up to aquatics director.
"They had no one using their therapy pool," Paul said. "I made the program and it grew and grew."
Paul reached out to local doctors and hospitals at her last job. She thinks Dallas will benefit from a similar effort.
Water therapy can work wonders for arthritis, she said. "Every rheumatologist needs to be contacted."
Paul relates having people drive from Salem to Mittleman in Portland to use the therapy pool. "I asked `why not use Dallas?'
"They said `they don't have a program.'"
Paul never wants to hear that statement again. She wants to attract older people who need some guidance, but don't have doctors' orders to undergo water therapy.
"There's no in-between. Either you're on your own or you need a prescription for a doctor." She has an eye on local retirement centers.
She also keeps an eye towards budgets. City officials have increasingly stressed the importance of boosting aquatic center income, joining with community members on a marketing and advertising committee.
The committee released a report last month -- covering everything from scheduling and management to advertising and seeking foundation donors -- just as Paul came aboard.
Paul knows people keep a close watch on what the City spends for the aquatic center. With a budget of nearly $750,000, only the police department gets more general fund money.
That doesn't worry her as she starts making changes. "I don't feel hemmed in at all," she said. "The way I set up programs is it's got to be cost-effective and cover itself.
"I wouldn't go out and create a program and hope it pays for itself. I'd go to the community and see what it wants."
She gives herself high marks for serving the community at her last job. She left with pools consistently full and with new programs thriving.
"I did as much as I possibly could," Paul said. "I was looking for new challenges."