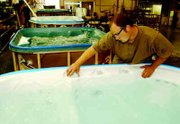 INDEPENDENCE -- For better or worse, Polk County isn't really big in anything.
Except maybe when it comes to sunshine in July and rain in January.
And, oh yeah, hot tubs.
Polk County actually is very big in hot tubs
Marquis Spas is the country's third-largest seller of hot tubs. Each and every one of those units is manufactured at the company's plant in Independence.
"We're something of a kept secret," said Marquis President Jerry Lankheet, who has been with the company for 15 years.
"Everything we sell we sell worldwide. We do sell a lot of products in a lot of countries. We're getting pretty significant throughout Europe. We're sending out container loads of product on a weekly basis.
"The biggest message is that we're trying to get to know the community better. That's not just to sell our products but for people to consider us as a place to work. We'd really like to build that employee base from the local area.
"We find we're not thought about a lot. We're trying to raise the level of awareness for Marquis, locally."
Sam Collins, a 1986 Dallas High School graduate, first came to Marquis as a plumber. It was just a job for the summer. But Collins never left. Seventeen years later, he's the vice president of manufacturing. There are about 275 employees overall.
"When I started, it was a fairly small company," Collins said.
"But there's always been room to grow and learn new jobs. Marquis always has been supportive in ensuring the employees have a good environment and are well-trained. I've had the opportunity to do just about every job within the factory. It's been a good road for me.
"At least half of our employees are from Monmouth-Independence and Dallas. We have a few stragglers from McMinnville, Salem and other places. But a fair amount are from Polk County. We've got a lot of guys who have a three-minute drive to work, and that's in rush-hour traffic."
At one point, Marquis also had manufacturing facilities in Colorado and Pennsylvania. Eventually, though, company officials decided it was better than locate everything in one location.
There are disadvantages to operating out of a smaller community than, say, Salem or Portland. Shipping costs, for one, probably are a bit higher. But there are pluses as well.
"The advantage is the base of people we have here," Lankheet said.
"We have great employees here. People often are taken aback by how long many people have been with us. The business is only 23 years old, and we've got a lot of people who have been here 20 years.
"If you go meet somebody in the factory, there's a good chance they've been here 10 or 15 years. Part of it is our family mentality. Maybe it's a little bit of the small-town mentality too. It fits with the personality of the company."
Marquis markets its products through a network of independent dealers around the country. The company has eight different models, from the 165-gallon Spirit to the 400-gallon Euphoria.
Marquis in the past has focused mainly on the top end of the market. Its spas generally are a bit more expensive than others. But people don't mind spending a bit more when they get a bit more.
"The difference is the quality of our product and service," said marketing manager Sherri Robinson. "Our spas don't need service as often if ever. A lot of people out there who have purchased Marquis Spas have had them for 10 or 15 years.
"Our flagship model, the Euphoria, is a Consumers Product Best Buy largely due to the focus on hydrotherapy. Hydrotherapy can benefit a person in so many ways. You don't even have to have a medical condition that hydrotherapy would help. They're great stress relievers and the Sleep Foundation recommends them. They can help with diabetes and a lot of other things."
Marquis' Independence factory doesn't look like much from the outside. But once you step inside, the place becomes a regular beehive of activity.
Forklifts skirt this way and that with hot tubs and assorted components in varying stages of development. There are roughly six different stages involved in completing a hot tub:
1. Acrylic skin molded in shape.
2. Skin reinforced with fiberglass.
3. Plumbing fixtures such as jets, fittings and hoses are added.
4. Mechanical equipment such as pumps and heaters are installed.
5. Testing to make sure spa is water-tight and all jets, etc. are working properly.
6. Insulation and exterior trim are added.
Marquis has three different shifts at its plant and can produce a maximum of 60 or 70 units per day. There is rack space for more than 900 spas at the plant.
Usually, though, once a spa is completed, it's not long before it's shipped off to a buyer somewhere.
"Even suppliers who drive up to the building don't understand what's behind the door," Collins said.
"From the conception of how big the company is, it's a little hard to tell just from looking at the building.
"It's hard to tell what we are. We don't employ 1,500 people and that in itself is a big magnet. People kind of forget we're here. We have dealers around the country, and we try to do a good job of supporting the local community. Our name's out there, but for some reason we don't collect a ton of awareness. I'm not sure if that's good or bad."