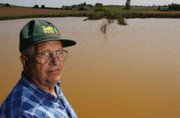 POLK COUNTY -- Delbert Bailey surveys the bubbling orange waste that has choked off life in a pond on his property.
A putrid stream leads back to neighboring Meduri Farms' large-scale fruit-processing plant off Smithfield Road near Highway 22.
Bailey sees the slime and smells its sick sweetness, the result of Meduri's infusing fruits with sugars and dehydrating them.
Bailey minces words on the mess and its creator, preferring to let visitors experience it through their own nostrils and eyes. "He's polluting," Bailey said of Meduri Farms President Joe Meduri.
"He's polluting."
State Department of Environmental Quality officials agree. They've cited Meduri Farms several times for letting his waste flow into Baskett Slough National Wildlife Refuge and Rickreall Creek.
The latest notice came May 28 -- with a $40,222 fine. A DEQ inspector found Meduri Farms violating its pollution control permit four times between January and April.
Meduri had been fined in the past for spreading too much of the waste on his land. The runoff from irrigating prune trees and grass seed had been polluting the wildlife refuge and the creek.
As a response, he built a 3-million-gallon holding pond for the waste. But this proved to be too little and too late. On Jan. 6, Meduri notified DEQ that this pond was overflowing, causing the same problem as before.
From water, fruits and sugar, Meduri Farms packs a deadly punch, said the DEQ's Tim McFetridge. McFetridge found pollutants leaving Meduri's pond at levels 444 times above what's allowed to leave sewage treatment plants.
The samples had a biochemical oxygen demand (BOD) of 20,000 milligrams per liter. The BOD level measures the strength of the waste, McFetridge said.
Waste that strong lowers the oxygen level in bodies of water, leaving too little for fish and other aquatic life. McFetridge said the ponds have also bloomed with algae.
Those blooms cloud the ponds. Refuge officials reported disturbed feeding habits because birds can't see into the water, McFetridge said.
Despite repeated violations, Meduri Farms will get another chance.
The DEQ has the right to revoke Meduri's permit, said Jane Hickman, environmental law specialist with the department. DEQ officials rarely take that path, Hickman said, especially when companies cooperate.
Meduri appears to have fixed the storage pond to avoid future overflows, Hickman said, by preventing ground water from filling the pond. In addition, Meduri now uses machines to evaporate much of the waste water so it never enters the pond.
Meduri should have taken these steps in October, Hickman said, but waited instead until April, after months of pollution. As a result, the fine includes $222 to make up for the financial gain from waiting six months.
Even if the pond never overflows again, McFetridge still worries about Meduri Farms' soil. He expects to have evidence showing Meduri again in violation of his permit by winter.
Meduri irrigates his soil with the potent waste water during the summer months. During the winter, rains sweep the waste into the ponds and creeks.
Meduri's permit allows him to put only as many nutrients on his land as the plants can use, McFetridge said. But plants don't use the sugary waste, so it just runs off.
Joe Meduri could not be reached for comment. He has until June 18 to request a hearing or a review of DEQ's order. Meduri's lawyer, Beverly Pearman, said her client hasn't decided whether to make such a request.
The fines against Meduri are considered civil penalties. McFetridge said there are no immediate plans to take criminal action.
"Joe Meduri is producing the effort," he said. "He's just in a very difficult situation.
"He has a very high-strength waste, it's difficult to treat and his disposal options are limited."