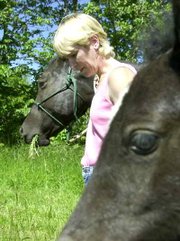 FALLS CITY -- You can learn a lot about communication by trying to control a 1,000-pound beast.
That's one of the lessons from equine-assisted psychotherapy, said social worker Linda Shannon.
Shannon has children work through a number of issues by playing with and training horses at her home near Falls City.
Children who play well with horses often play well with others.
Horses can mirror human emotions, Shannon said. In a May 23 therapy session, a horse named Atlantis kept trying to escape through the arena's gate while a nervous boy tried to coax him back.
"I'm trying to make him calm down," he said, drawing out the syllables. "He's a lit-tle energetic."
The idea to use horses in therapy came to Shannon one day while driving along Highway 22. She started researching and found, indeed that others had the same thought.
She trained with a national accrediting agency and started her own practice in 1999. "I was working out of the seat of my pants."
From those early days, Shannon gained a partner, counselor Jason Seth, and many more clients. Having a contract with Polk County Mental Health the last two years has allowed her to see many more people.
Shannon wants to continue with the therapy sessions even though her contract was not renewed for the coming year. She has worked with around 20 children in the last two years, most of whom were on the Oregon Health Plan.
Shannon said the therapy has helped children with attention deficit hyperactivity disorder, those who defy authority, children suffering from depression, loss, and trauma survivors. "Some kids get it, some kids don't," she said.
"But the ones who get it really get it."
One teen who really got it had a difficult time setting boundaries for his horse. But the act of doing so made him realize how his father feels when he disciplines his son.
On May 23, another boy noticed his connection to the horse. "I noticed I have to be patient," he said. "She has to be patient too."
Even learning to be calm around another animal has value, Shannon said. This boy learned that lesson. "I was nervous at first because she's so big.
"I didn't know if she'd try to kick me. But she's a calm horse."
As the children led the horses in simple directions and games, they learned control and trust. Shannon hopes what they discovered about themselves extends beyond the horse arena.
"People are habitual," she said. "When a client listens to us and does something different, then they can say `how does this apply in my day-to-day life?"
More like this story