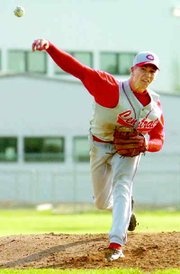 INDEPENDENCE -- It was clear that once Jordan Pratt graduated along with the rest of Central's senior class on June 6, he wouldn't be sticking around these parts for long.
Pratt already had signed a baseball scholarship with Washington State University. But another very tasty option showed up on June 3 when the Panther standout was selected by the Los Angeles Dodgers in the fifth round of the Major League amateur draft.
That left Pratt with a difficult but envious choice -- become a Washington State Cougar or take the first step toward a possible career in the major leagues. The selection has been made.
"I'm going to sign with the Dodgers," Pratt said on June 9. "It's a good opportunity. I'm looking forward to getting started and playing some baseball. Don't get me wrong. It was probably the toughest decision I've ever had to make.
"Washington State was a great opportunity, too. It took a lot of time and a lot of soul-searching. I decided this is what I wanted to do."
Pratt was taken by the Dodgers with the 151st overall pick. He was the second player from Oregon to be drafted behind University of Portland outfielder Kory Casto, who was picked by the Montreal Expos in the third round.
Pratt, a right-handed pitcher who also played shortstop for Central, had been rated as the country's 114th best prospect by Baseball Weekly magazine.
"I was ready to go anywhere from the third through the fifth round," Pratt said. "A lot of high school guys started to fall for whatever reason. I went a little lower than some people thought, but it was about what we expected."
The Dodgers, with a history of players such as Jackie Robinson, Pee Wee Reese, Duke Snider and Sandy Koufax, is one of baseball's most storied franchises. Perhaps only the Yankees have a deeper and richer tradition than the Dodgers, who started play in 1890 as the Brooklyn 'Bridegrooms.'
For years, even since the long-ago days of Walter O'Malley, the Dodgers have been known as a team that focuses on acquiring and then developing young talent. This year, Los Angeles drafted high school players with 35 of its 50 picks. The Dodgers took high school pitcher Chad Billingsley with their No. 1 selection. Four of the team's first five choices were high school pitchers.
"A lot of people have strong feelings about the Dodgers," Pratt said. "They're definitely a quality team. They're definitely dedicated to choosing high school guys in the draft and them nurturing them.
"Some guys just take you and throw you into the program. These guys do a good job of taking young guys and then developing them. They've developed quite a few high school pitchers. It's definitely a high-class organization all the way through."
Pratt indicated he did receive a signing bonus. Father Jeff Pratt and adviser Jim Lindel handled negotiations with the Dodgers officials Hank Jones and Logan White.
"It was enough money," Pratt said. "They provided money for school afterward, also. It was enough to make me decide to go. All my school will be paid for after I get done playing, and that was a big part of it. We made it clear school was important."
The next stop for Pratt is Ogden, Utah, where he will play this summer for the Dodgers' Class-A team known as the Raptors. Ogden plays in the Pioneer League. (Unfortunately, the Class-A Salem-Keizer Volcanoes are in the Northwest League.) Pratt planned to leave for Utah on June 10.
"It's exciting," Pratt said. "I don't really know what to think. I'm just going to go for it. It's going to be crazy. I'll probably come back at the end of the summer or whenever the league is over. Right now, I'm kind of getting shoved right into this right away, but it is exciting."
Pratt, of course, leaves behind a trail of exciting moments in his wake. He was a three-sport star at Central from the first day he stepped on the football field as a sophomore.
He helped the Panthers reach the state quarterfinals twice each in football and baseball. He also helped Central to back-to-back state championship games in basketball.
Pratt also was cited by his fellow graduates for his "Outstanding Citizenship" and was co-salutatorian along with Eloise Martin and Erin Buxton.
"Central High School is great," Pratt said. "It could not have worked out better for me. I really had a lot of fun at Central. Coach (Dale) Cutsforth was great, coach (Jason) Clark was great and coach (Shane) Hedrick was great.
"All of the teachers were very supportive of me. It was a great place for someone like me to thrive in. Everyone was very supportive. I met a lot of great people and had a lot of great teammates."