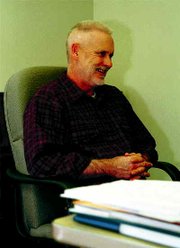 POLK COUNTY -- Phil Walker sits at his desk Oct. 30, one day before taking his oath as a Polk County Commissioner. The walls and desk stand stark without the maps, awards and paper piles that had dwarfed them a month earlier.
No one has ever sat at this desk except former Commissioner Mike Propes, Walker said. He occasionally refers to the room as "Mike's office."
The Polk County Board of Commissioners appointed Walker Oct. 29 to serve the last year of Propes' term. Walker said he will not run for the position when it opens in November 2004.
Although Propes' health means he can't serve, he won't be far. Walker intends to carry out Propes' special projects, including highway safety improvements and timber issues.
Walker, who served a few months in 1998 for former Commissioner Ralph Blanchard, sees his coming year in office as a duty, not a career opportunity. "I'm most happy when I'm outside working on a farm," he said.
"I do this out of devotion."
While Walker doesn't share Propes' style, he considers some of their goals the same. "Mike always tried to find pragmatic solutions that didn't bust budgets," Walker said.
Walker farms 845 acres of orchard fruits near West Salem. His family has lived in Polk County for five generations.
He toyed with the idea of a life in politics, graduating from the University of Oregon with a political science degree in 1975. His wife Rebecca's stroke made him reconsider his priorities.
He thought twice about any job that would pull him away from family and farm. Married for 24 years, Phil and Rebecca have three sons: Mark, 22; Will, 20 and J.D., 14.
Phil Walker has worked part-time, including a turn as local government columnist for the Statesman Journal in Salem. "I was their token redneck," Walker said.
He served on several boards and committees, including nearly two decades on the county's budget committee.
That local government experience led Commissioner Ron Dodge to choose Walker over his two competitors for the position. "He knows the budget backwards and frontwards," Dodge said.
Walker likes his budgets small and geared toward law enforcement and roads. He doesn't believe in spending general fund money on mental health or addictions programs.
He doesn't buy into the notion that prevention and treatment save the county money in the long run, saying studies suggesting otherwise only benefit those who conduct them.
Studies done by Rand Corporation and for the State of Oregon show $1 spent on drug and alcohol treatment saves $5 to $7 in law enforcement, corrections, welfare and publicly supported medical treatment.
Walker said he'd rather encourage self-reliance than dependence on the county. "The problem with being proactive all the time is you end up spending money on problems that might not be problems."
Commissioner Tom Ritchey thinks Walker's addition won't change the board's character much. "We're basically a pretty conservative county," Ritchey said.
"We have a whole lot of middle ground."
With Walker's experience, Ritchey said he should catch up with the County's current business quickly. "He has a really good grasp on our day-to-day operation."
Walker fits in with the board's position on more controversial issues. He doesn't support spending community corrections money to temporarily house recently-released inmates. "The taxpayers of this county spent a lot of money for people in this situation," Walker said.
"It's called the jail."
Walker beat out Jackie Lawson and Stan Butterfield for the position. Both have indicated a willingness to run for the position next November.
Ritchey expects several more Republicans to compete for the seat.
Walker sees no major changes in the year ahead. He would like to see a new Human Services director to take some strain of County Administrator Greg Hansen.
Other than that, he wants to stay on the current path. His preferred legacy after a year in office: "He kept it between the ditches."