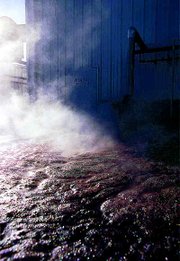 POLK COUNTY -- Patches of parched earth have begun to show at the bottom of Meduri Farms' 3 million-gallon storage pond. The orange-stained dirt and grass at the high-water mark give the only hint that the pond overflowed with sugary waste only seven months ago.
When the pond fills, it will fill with rainwater -- not the waste that has earned president Joe Meduri several fines from the state Department of Environmental Quality.
Meduri has found that the very source of his troubles, the super-sugary by-product of his fruit processing operation, has become a desired commodity. That waste gets turned into ethanol, an alcohol mixed with gasoline to produce a cleaner-burning fuel.
Meduri Farms dries and sweetens fruits with sugar and fruit juices on its Dyck Road site near highways 22 and 223 northeast of Dallas. In the process, it produces millions of gallons of wastewater.
Meduri had sprayed the wastewater on his prune trees and grass seed. The waste was too strong, however, and began to run off into nearby Baskett Slough.
To respond to DEQ concerns, Meduri built the 3 million-gallon pond and bought several large-scale evaporators two years ago. Limited to spraying between May and October, Meduri stored the wastewater in the pond during the rainy season.
The pond eventually overflowed, again polluting the slough.
Meduri said he has stopped using the pond. "We haven't pumped an ounce into the pond since April," he said, when DEQ last recorded an overflow violation.
Instead of the pond, Meduri now pumps the waste into tanker trucks that make the long trip to out-of-state distilleries. There, yeast is added to the waste, converting the sugars into a useful alcohol -- ethanol.
Demand for ethanol has increased as a replacement for another additive, MTBE, which has contaminated groundwater. A federal energy bill would double the country's use of ethanol to 5 billion gallons per year by 2012.
Meduri fills a 5,000-gallon tanker truck every other day to send to the ethanol plants. He doesn't quite break even on the deal but saves tremendously over the cost of using a disposal company.
"It's worth every penny," Meduri said. "To throw sugar away is so expensive."
The scale of his operation has made any solution hard to come by. Meduri thought of processing the waste for cattle or hog feed or even creating a massive worm bin.
He considered using a compost heap but couldn't fathom a big enough heap. "I'd be creating another monster," he said.
When he read about ethanol plants, Meduri realized he had found the solution. The sugars that had limited his options before had become the most vital ingredient in ethanol fermentation.
Neighbors who have complained, protested and even sued Meduri were encouraged by the new steps he has taken. However, they feel he hasn't gone far enough.
"The idea of not land-applying [waste] is great," said David Hiebenthal. "I don't know about the residual runoff."
Soil once contaminated with pollutants will leach out pollutants as water passes through.
The DEQ's Tim McFetridge recently tested the runoff and found elevated pollutant levels but not enough evidence to document a violation. "It's not as much as we've seen before," McFetridge said.
Without adding more waste to the land, he said, "it appears it will lessen."
That still leaves the pond -- and another concern. "The pond itself stinks," Hiebenthal said, "empty or full.
"I live right where we get the smell benefit of it."
Hiebenthal wants Meduri to fill the pond in with soil that has not been contaminated. Meduri thinks it will return to nature on its own.
"It's going to end up being a nice pond," he said.
Neighbor Delbert Bailey had taken the worst of the overflows from Meduri's pond. Although the pond no longer fills with waste, Bailey said a steady stream of water still runs into a ditch and pond on his property.
"That ditch should be dry clear up until now," Bailey said, "but it's been running all summer long."
Bailey complained to Polk County officials, thinking a sewer or some other pipe had ruptured. Community Development Director Gene Clemens said he found no evidence of a septic leak.
Clemens said the water could have come from a wetlands draining onto Bailey's property, as DEQ officials suggested.
Although Meduri said no ethanol distilleries exist in Oregon, he's encouraged by reports of one opening soon near Boardman in the Columbia River Gorge. He had his eye on another alcohol maker off the Interstate 5 corridor, but that didn't pan out.
"They used to use the Miller Brewing Co. in Olympia," Meduri said. "It's too bad they don't do it any more.
"It would have been nice and close."