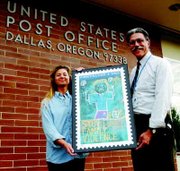 DALLAS -- On Oct. 11, stamping out domestic violence in Polk County will take on a new meaning.
The Dallas Post Office has teamed up with Sable House, Polk County's domestic violence and sex assault shelter, to unveil the new "Stop Family Violence" stamp. The 45-cent stamp raises money for federal domestic violence prevention programs.
The Saturday, Oct. 11 ceremony will be a stamp collector's dream. Only Dallas and Tacoma, Wash. will hold local first-day unveilings.
In addition, Sable House designed a Dallas-specific stamp cancellation and envelope.
With every "Stop Family Violence" stamp sold, the Postal Service will give 8 cents for federal domestic violence programs. The Postal Service has used this fund-raising method only twice before -- once with the breast cancer stamp and once with the "Heroes" stamp issued following the 2001 terrorist attacks.
Dallas Postmaster Morrie Bart approached Sable House to bring broader attention to local efforts at ending violence. "It demonstrates a community partnership for ending domestic violence," said Pamela Schiopen of Sable House.
The cancellation artwork will appear in a national publication reviewed by stamp collectors. Collectors can mail in requests for the special postmark.
Sable House's Jenica Van Dyke designed the cancellation stamp. Van Dyke directs the Pearl Gallery program, an extension of Sable House.
The "Stop Family Violence" stamp shows a child's reaction to violence at home, drawn from the child's perspective. Van Dyke drew her cancellation in crayon, showing a mother and child safe at the Sable House shelter.
She appreciates the symbolism in the stamp and its cancellation. "The stamp is the sad side of domestic violence.
"I really wanted to show how Sable House takes that situation and turns it around."
The cancellation reads "10 years building safe families through help, hope and healing in Polk County."
The stamp ceremony runs from 11 a.m. to noon, Saturday, Oct. 11 at the Dalton Building, 115 SE Court Street in Dallas. Orders will be taken for the collectible envelopes, which include the stamp, cancellation and Pearl Gallery logo.