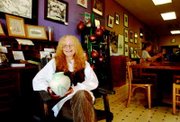 DALLAS -- Kathy Greysmith, the owner Courtyard Coffeehouse in Dallas, hosts a gallery of Northwest artists during Arist Day from 9 a.m. to 4 p.m. Saturday, Oct. 25.
There will be demonstrations and presentations in pottery, pien and ink, photography and watercolor.
A variety of food and drink will also be featured.
Artists include:
♦ John Beck, pottery.
♦ Blaine Billman, pen and ink.
♦ Joanne Daschel, pen and ink.
♦ Carol Davisson, watercolor.
♦ Doug Harms, photography.
♦ Daniel Hurst, photography.
♦ Shirley Mentzer, photography.
♦ Barbarba Ziegler, watercolor.
The coffeehouse is located at 156 S.E. Mill St., Dallas. More information is available by calling 503-623-9686.