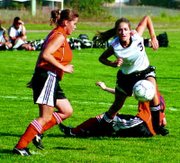 DALLAS -- Rem Barnes scored twice on Sept. 4 at North Salem, leading Dallas' boys soccer team to a 3-0 victory against host North Salem in the season opener for both teams.
Barnes made it 1-0 with a penalty kick 12 minutes into the match. Barnes was sandwiched in the penalty area by a pair of North Salem defenders, setting up the penalty kick.
John Stephenson scored the second goal early in the second half after a nice bit of work by teammate Justin Iott. Iott stole the ball from a Vikings player in the corner of the field and launched a low, hard cross into the center that Stephenson booted into the goal.
Barnes closed the scoring at the 67-minute mark, breaking free on a long run from the midfield and drilling a shot into the right side of the net.
Ryan Fobert started in goal for Dallas and gave way to Nathan Kutsch with about 15 minutes remaining. The two combined for five saves.
Midfielders Kevin Parks and Nick Dallman both had strong games.
"I was happy that we shut them out," Dallas coach Steve Dickerson said. "We're continually improving on defense, which is one of our most inexperienced areas. We challenged every ball, but we need to get better in the air. We need to win the balls in the air that we should be winning.
"We want to get to where we can score a little more. But I'm happy with three against North Salem. I think that's more than we scored in any game last year."
Dallas also played in a jamboree on Sept. 6 against Franklin, Hillsboro and St. Helens. All three matches ended in scoreless ties.
The Dragons dropped to 1-1 overall on Sept. 8 with a 3-1 loss at West Salem.
Girls update
: Dallas jumped to a quick 3-0 lead and rolled to a 4-1 win in its season opener on Sept. 4 against visiting North Salem.
The Lady Dragons scored three times in the game's first 16 minutes. Goals by Melissa Charlton, Ivy Grzybowski and Adrienne Hall made the score 3-0.
After an own-goal made it 3-1, Lisa Cacka closed the scoring at the 60-minute mark.
Goalkeeper Nikita Vesper made nine saves for Dallas.
The Lady Dragons, who have one senior (Cacka) and 11 freshmen and sophomores on their roster, dropped to 1-1 on Sept. 8 with a 7-0 loss at West Salem.