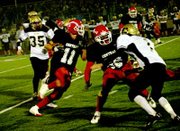 WEST SALEM -- No, Central was not perfect in its Class 3A state quarterfinal with No. 7 North Bend on Nov. 26 at West Salem High School.
But the Panthers were mighty close to perfection in all facets of the game as they rolled to a stunning 51-14 victory and a berth in the state semifinals this week against Sherwood.
"We felt that we would win," Central lineman Brett Myers said. "Obviously, we didn't think we'd win this big. We thought we would have a good chance.
"We played awesome on defense, offense and special teams. It was great. Any time you put up 51 points, it's awesome."
Central rolled to the Val-Co Conference title with a 5-0 record but was unranked entering the postseason. After a first-round bye, the Panthers squeezed by Ontario 28-18 in the second round.
But Central reached a new and higher level against the Bulldogs.
Myers, Roger Brown, Jonathan Tulensru, Alec Igou and Travis Tomblin were dominant in the offensive line. Quarterback Joe Pratt had ample time to scan the field and responded by hitting 14 of 24 throws for 246 yards and three touchdowns.
North Bend had no answer for receiver/kick returner Tim McElravy, who had better than 200 all-purpose yards and scored three touchdowns.
Central ran the ball with ease as well. Tailback Trevor Fine netted 93 yards on 11 attempts, and the Panthers finished with 252 ground yards.
In all, Central averaged better than seven yards per play on 65 offensive snaps.
The defense was no less impressive. Central again controlled the trenches, and linebackers Adam Smith and Francisco Vega where everywhere. End Robert Burrows also spent much of a cool, foggy evening wreaking havoc in the North Bend backfield.
The Bulldogs had a bit of success on the ground, rushing 35 times for 187 yards. But North Bend was forced to go to the air after falling behind early, and that proved disastrous. The Bulldogs completed six of 18 passes. Central free safety Alex Stockner had three interceptions, making him North Bend's second-leading receiver on the day.
"I think we're reaching our peak," said Smith. "We're hitting on all cylinders. We're a complete team, and everyone is giving 110 percent.
"This is great. We went to the quarterfinals a couple of years ago, but we didn't make it to the semifinals. It's always been our goal to win a state championship. We've still got a little work to do."
Those words might have sounded like a fanciful dream a few weeks ago, but not now.
The Panthers gave North Bend an idea of what was in store on the game's opening kickoff. Central's Logan Yliniemi kicked a low knuckler, and the Bulldogs returner was swarmed at the 12-yard line.
North Bend moved across midfield on a 20-yard run by Geoff Ball and moments later converted a fourth-and-one at the Central 32. But Landon Durand was stopped for a four-yard loss by Vega on the following play, and North Bend soon was forced to punt.
That led to one of the game's few worrisome moments for Central. McElravy had to reach low to field the punt and couldn't quite haul it in. A North Bend player clearly had the first shot at the ball. But when the players unpiled, it was Burrows who had somehow come up with the football.
Pratt dropped the snap on the following play before running for 13 yards. He later hit Andrew Waterman for 11 yards on third-and-six and connected with McElravy for 46 yards and a first-and-goal at the three.
Three plays later, Smith bulled in from the one. Yliniemi's extra point made it 7-0 with 3:22 left in the opening quarter.
That was merely the beginning. Central was like a hurricane spinning forcefully in the Gulf of Mexico, growing ever stronger as the night progressed.
North Bend's next possession ended quickly on the first of Stockner's three interceptions. Central gained one first down but then was forced to punt. Andrew McAllister inexplicably fielded Vega's boot at the three, where he immediately was dumped by Stockner.
North Bend moved eight yards in three plays, and Central started at the Bulldog 21 after a 26-yard punt return by McElravy. That led to a 22-yard field goal by Yliniemi that made it 10-0 with 9:02 left in the half.
Stockner came up with his second pick moments later. Central moved 39 yards in five plays, building a 17-0 lead on Pratt's 14-yard pass to McElravy with 6:34 left in the half.
North Bend responded with its best drive of the game, moving 65 yards in nine plays for Bollig's 29-yard touchdown pass to Javin Clinkenbeard. Nick Jakovac's point after made it 17-7 with 1:41 remaining in the half.
Central was unwilling to sit on the 10-point edge. Pratt completed passes of 16 and 10 yards to Stockner and a six-yarder to McElravy. After an incompletion, Pratt went back to McElravy for 36 more yards and another touchdown with 43.7 seconds left.
The Panthers had another chance to score after Burrows recovered a fumble with 37.3 to go. But Yliniemi's 45-yard field goal attempt was wide right on the final play of the half.
North Bend opened the second half with an onside kickoff, and Brad Kilkenny recovered for the Panthers. Fine swept around right end for 27 yards on first down. Three plays later, Pratt passed 11 yards to Smith for a touchdown and a 31-7 lead.
McElravy made a touchdown-saving tackle on the next series, chasing down Durand after a gain of 31 yards. North Bend then was forced to punt, and the ball was downed at Central's one-yard line.
The Panthers were almost disdainful in their response. Pratt went back to pass on first down and lofted a perfect pass down the right sideline to McElravy for a 34-yard gain. Fine then ran five times in a row for 38 yards. Pratt ran four yards around right end before pitching left to McElravy, who ran 23 yards for a touchdown and a 38-7 lead.
Somewhere along the way, North Bend started coming apart at the seams. The players began bickering back and forth and there were a handful of personal fouls on the Bulldogs. One North Bend player was ejected from the game.
None of which seemed to bother the Panthers much. Central made it 44-7 on a nine-yard run by Vega (the extra point failed because of a high snap).
The Panthers' final touchdown came on an 18-yard run by Pratt. It added insult to injury for at least one Bulldog. Pratt was nearing the 10 or so when a North Bend defensive back stepped forward to meet him. Pratt faked to his right and darted back to the left. The would-be tackler was completely fooled, left standing flat-footed at about the five as Pratt waltzed by him into the end zone.
With the victory, Central now gets another shot at Sherwood. The game will be the first of a double-header at noon on Saturday, Dec. 4 at Hillsboro Stadium. Wilsonville and Sweet Home will meet at 3 p.m. in the other semifinal.
Sherwood roughed up the Panthers 36-7 in the fourth week of the regular season. But -- as North Bend now knows -- Central now and Central in the fourth week of the regular season are two very different things.
"I think we've improved drastically," Central head coach Shane Hedrick said. "I'd like to think it's a night-and-day difference. The kids are much more confident running our systems on offense and defense. We've had a great opportunity over the past several months to perfect was we're trying to do. That was evident Friday night."