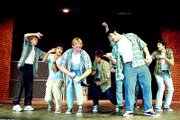 INDEPENDENCE -- After fall, Central High theater director Jeff Witt asks students what play they want to do for the school's live theater production.
They inevitably choose "West Side Story."
Unfortunately, he never has a large enough cast and crew to handle all the technical requirements. Until now.
"You can't do this play every year," said Witt, also the school's choir director.
"You have to have the right number of men, the vocalists, the musicians who can play the show, the dancing. It's just an incredibly difficult show to put on."
When his choir regulars approached him again about the play last October, Witt issued a challenge.
"I told them I didn't think we couldn't do a show without 25 men who could sing and dance, and if they could find them, we'd do it," he said.
"And they went and found 35 guys to try out to be a part of the show...I don't know how it worked out, but it did."
The classic Jerome Robbins production, a Romeo and Juliet-esque tale set amidst the backdrop of gang violence and racial tension in 1950s New York, opens at 6 p.m. Wednesday, Feb. 11, with a full dress rehearsal at Central High.
The show continues with regular performances through Saturday, and from Feb. 18 to 21.
Witt said "West Side Story" is a difficult play to tackle from a technical standpoint. It contains nine musical numbers, almost twice as many as the school's last big production, "Oklahoma!"
"Leonard Bernstein (the play's composer) wrote an incredibly difficult score, so it's hard to sing everything that comes with accompaniment," he said.
The dance numbers have been tough too, said choreographer Linda Kunze. She simplified some of the more difficult dance scenes in the play -- originally conceived as a ballet -- but says it's tough to coordinate dozens of people on stage at once.
As Kunze takes notes while the Jets (the play's American gang) run through the "Cool" scene at a recent rehearsal, she says the cast and crew was still adjusting to the live piano accompaniment.
Two weeks ago, they made the switch from the orchestral score on CD, which they'd been practicing to since October.
"You can see them counting (steps) because they don't have the musical cues from the orchestra," she said. "This whole part has musical cues that we can't hear any more."
Still, Kunze predicts the show will be a success come opening night.
"The kids are awesome," she said. "I've been choreographing for a long time and this is one of the best groups I've ever worked with...the talent pool this year was high and there were way more kids trying out (than usual)."
Nate Sparks, who plays the sympathetic shop owner, Doc, said "West Side Story" has been a challenge in terms of subject matter, as well.
"Most of the stuff we're use to doing is pretty lighthearted," he said. "This one is tragic, and more dramatic than what we've done in the past."
Sparks said one of the keys to maintaining the tension of the play was to capture the atmosphere of the 1950s.
"The scenery and the costumes obviously help, all the color schemes of the 1950s," he said. "My bar is all mint green with the red trim."
Cody Prescott, 16, said he and his fellow Jets have their own unique method to stay in character.
"Sometimes we send the Sharks (the rival gang) notes in class, saying 'Sharks Suck!'" he said. "We try and play it up to get into the parts."
Sparks said one concern going into the play was the issue of racism.
"Going into 'West Side Story,' we knew there were slurs," he said. "But the key was to try and take into account the time period, and portray our characters in a respectable manner."
Central High School presents "West Side Story" tonight at 6 p.m. in the school auditorium. The performance is free for senior citizens.
Regular peformances run Thursday to Saturday, Feb. 12 to 14, and Feb. 18 to 21. Shows start at 7 p.m. Tickets cost $7 for adults, $4 for students and children 12 and under and $25 for a family pass.