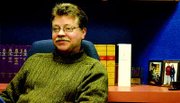 DALLAS -- In four terms in the state Legislature, Lane Shetterly of Dallas has crafted bills that affect every Oregonian.
Looking back, however, he's just as proud of the ones that made a big difference to a few people.
Shetterly announced Jan. 6 he will not seek a fifth term in the Oregon House of Representatives.
Shetterly, chair of the budget-writing House Revenue Committee and backup House speaker, remembers House Bill 2389 fondly. In 1999, Dale Swearingen of Perrydale approached Shetterly after getting tangled up in land use regulations.
Swearingen wanted to split off a piece of his land to build a new church. Zoning laws allowed for a church on the farmland but didn't allow Swearingen to divide his property to create a parcel for the church.
"Mr. Shetterly very kindly took that up over at the Legislature and introduced whatever was necessary," Swearingen said. Within months, the bill he introduced was signed into law. The church went up the next year.
"That's tremendously satisfying," Shetterly said, "having the knowledge of which buttons to push, which levers to pull."
Even as he worked on the state's biggest issues, Shetterly remained rooted in Dallas. He still serves on the Dallas Community Foundation's board, a group he helped found. During legislative sessions, he came home for dinner and to tuck his children into bed.
But it became harder to be the husband and father, the lawyer and the community member, all while being the lawmaker. "It just gets to be wearing on you to do that."
He remains active in his church, Trinity Lutheran in Dallas. "He's always willing to help when he can," said pastor the Rev. Dave Pederson.
Shetterly brings humility to church, Pederson said, not the ego of a powerful lawmaker. Shetterly's attitude served him well on the church council, Pederson said, and later as a lawmaker.
"We'd be going back and forth in an honest disagreement and Lane would come forward with a proposal that would just make sense," Pederson said. "Everyone would just say `oh, yeah.'"
Shetterly was born in Dallas and graduated from Dallas High School. He got his teaching degree at Oregon College of Education, now Western Oregon University.
The college didn't just become a university. In his first term, Shetterly fought to make Oregon's regional colleges universities.
"That was a big bill," he said. "It was my first real legislative effort."
Shetterly taught music at Gresham High School before attending law school at Lewis & Clark Law School in Portland. He graduated in 1981 and joined his father's law practice in Dallas the same year.
He and his wife Francine have two children, Joel and Lauren, 14 and 11 years old.
Shetterly has served as president of Dallas Rotary and the Dallas Area Chamber of Commerce. He was named Dallas Junior First Citizen in 1994 and First Citizen in 2000.
Shetterly was first elected to the House in 1996. In his first session, he helped create the Office of Administrative Hearings, which took effect in 2000 and only became permanent in 2003.
The office lets independent judges hear complaints against state agencies. Before, the agencies themselves heard the complaints.
"The very place you were complaining to was the one that gave you a hearing," Shetterly said.
Rep. Vicki Berger, who served on the Revenue Committee with Shetterly, considers him a mentor. "He is the best of citizen legislators," Berger said.
"He has a wonderful grasp on the kernel of every issue and he's articulate in explaining that kernel."
Shetterly, a Republican, showed he could work across party lines. He joined a coalition of mostly Democrats to pass last session's budget-balancing tax package.
Gov. Ted Kulongoski called Shetterly's departure "a great loss for the House of Representatives. He was a constructive voice of fiscal conservatism."
After the longest legislative term in history, Shetterly doesn't count fatigue as a reason for leaving. "This isn't draining. I find it energizing, exhilarating.
"Once you get used to the process, the battles aren't so daunting."
Shetterly hasn't ruled out running for office again in the future. "It isn't a retreat from public service or even political service, but a need to focus these next few years and not continue in a divided world."