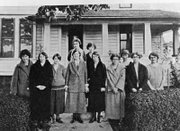 MONMOUTH -- The old lady stood at the bottom of the stairs and pounded the hardwood floor with her cane.
"No boys! I will not have boys in this house! Do you understand me?!
They understood.
No one lived at the Howell House without understanding the house mother's edicts. No boys. None. Ever.
Similar bans existed on folderol, fiddly-dee and all manner of shenanigans.
And proper young ladies always wear skirts -- especially on Sunday. No exceptions.
The cane had spoken.
Susie Howell's parents built the Howell House for her in 1891 as a place for her and other girls to live while attending Oregon Normal School (now Western Oregon University).
She stayed on after graduation as the house mother. Other house mothers followed -- each as stern as the last and each as unyielding in regards to boys and skirts.
Carey Madden breaks the mold.
Too young to have a cane, and too nice to pound one on the floor, the new house mother promises a 19th century environment with 21st century sensibilities.
"I look at this as a community of adults," she said. "They all have private rooms. As long as they are quiet and respectful of others, what they wear and who they see is their own business."
Madden bought the Howell House two years ago this October. She continued to run it as the bed and breakfast it has been since the late 1980s.
Recently, however, she decided to make the Victorian home once more a boarding house for students.
"It's rather romantic," she said. "It's like all the Victorian novels I read. There are always boarding houses for young women."
In fact, she just finished reading a mystery set in a Victorian boarding house. "Not that I'm anticipating any whodunnits right across the street from the Monmouth Police Department."
But turning the Howell House from a bed and breakfast to a boarding house was not a romantic lark. It was a canny business decision.
Monmouth just doesn't attract enough business for a bed and breakfast, said Madden. On the other hand, four out of the six rooms have already been leased to Western students for the 2004-05 school year.
All the tenants so far are young women. Madden prefers it that way. She plans to hold regular pizza parties, movie nights, Sunday brunches as well as host an in-house book club.
It's a more feminine environment, she said. "A couple of boys have asked me about rooms, but once I described the environment, they said thanks and hung up."
Besides, she added, there are less expensive housing options for students. What the Howell House offers is an old-fashioned sense of community -- a sorority without the formal organization.
Like the house mothers of old, Madden does have a few hard and fast rules. Tenants must be quiet and respectful. Beyond that, she encourages sisterhood.
She plans to start the school year by having the residents paint their own signs for their doors. This means abandoning the literary themed rooms Madden started when she bought the house.
The residents won't mind. They get private bedrooms and baths. Each room comes with antique furnishings. Each bathroom comes with an old-fashioned claw-foot tub.
During the summer months, Madden plans to rent the rooms not leased by students to long-term visitors interested in weekly and monthly rates.
The Howell House operated as a boarding house from 1891 to the early 1970s. It was not always for girls. In fact, most of the time, it was a boarding house for boys.
The girls moved in mostly during time of war while the boys were off fighting.
In the early '70s, it became a private residence. It fell into disrepair.
By the time Sandra and Clint Boylan bought it for $25,000 in the late 1980s, the two upper floors were condemned. They set about turning it into a bed and breakfast.
It was placed on the National Register of Historic Places in 1987.
Madden said she's happy to return the Howell House to its historic roots.
"I rather like the idea of being the new house mother. I'll try not to stomp the floor too much. These are nice floors. I would hate to scuff them up."