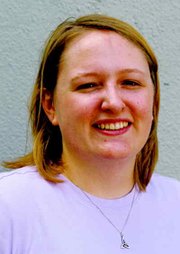 POLK COUNTY -- Erin Zysett joined the Itemizer-Observer's news staff this week as a general assignment reporter.
She will be covering general news and feature stories, including county government, police and courts and Dallas city government.
Zysett replaces reporter Justin Carinci, who left the newspaper after three years to join the staff of the Vancouver Columbian in Washington.
A graduate of Silverton Union High School, Zysett spent part of her childhood in Independence. She attended Chemeketa Community College where she was executive editor of The Courier, Chemeketa's student newspaper.
She graduated from the University of Oregon in 2002 with a bachelor's degree in journalism. She wrote free-lance stories for the Oregon Daily Emerald and served as news director of KWVA campus radio in Eugene.
She was also a staff writer and photographer for Oregon Voice Magazine.
Before coming to the Itemizer-Observer, she worked as a national service member for the Partnership for Student Achievement in Forest Grove where she helped develop the new Accelerated Reader Program.
"Erin came to us as a free-lance writer and it was only a matter of days until we wanted her as a full-time member of our news team," said Managing Editor Tom Henderson.
"She brings a great deal of passion to journalism and has just the right personality for making a connection with the communities we serve."