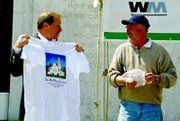 FALLS CITY -- Gov. Ted Kulongoski presented Randolph Osman with SOLV's Enduring Community Builder Award in a June 2 ceremony at the Capitol.
Osman has lead Falls City's spring cleanup for seven years.
The honor came as Osman prepared for the June 5 cleanup -- his last as coordinator. City Recorder April McClure takes over next year.
SOLV, a nonprofit founded in 1969 to stop litter and vandalism, works toward community beautification and enhancement. The annual Project Oregon Awards recognize five outstanding projects from across the state.
Osman used the opportunity to give Kulongoski a T-shirt bearing an image of Falls City's United Methodist Church. The 1892 Carpenter Gothic building is Falls City's only on the National Register of Historic Places.
Kulongoski, a Catholic, joked "that's the closest I'm going to get to a Methodist church" while holding up the shirt.
Each year at the spring cleanup -- at the old mill site across from the post office -- around 20 volunteers and city employees collect and sort trash. Dallas Disposal Co. gets rid of it.
Manager Chuck Lerwick said Dallas Disposal usually hauls away four 48-cubic-yard containers of steel scrap alone and three or four 30-cubic-yard containers of garbage. Lerwick joined Osman and McClure in accepting the award.
Falls City residents use the event to get rid of so many types of junk that Osman has an easier time describing what is not collected: liquids, volatile substances, tires and batteries.
Other than that, if you can't throw it out with your weekly garbage, the spring cleanup generally accepts it. "But no household trash," Lerwick warned. "That's what I do for a living."
A week before the cleanup, Osman has a Polk County community service crew collect junk from elderly and disabled people. Another crew returns cleanup day to bring the junk to the site.
The cleanups grew out of an effort by Osman and John Freeburg to pick up trash dumped on private timberland around town. "Somebody said `why don't you do that within Falls City," Osman said.
Osman got advice on how to proceed from SOLV and the cleanup became an annual event. Now, as Osman passes coordinator duties to McClure, he hopes both the cleanup and public awareness grow.
He wants to find a way to get rid of tires. He also wants to challenge some myths about junk.
"One: you never know when you're going to need it. And two: it's valuable."
Even with high steel prices, Lerwick said, the cost of processing scrap metal usually exceeds its worth.
McClure said she's ready to take on the project. "When Randy came forward, I jumped at the chance.
"I like to see Falls City cleaned up."
At the awards ceremony, SOLV Executive Director Jack McGowan credited projects such as Falls City's for helping Oregon's sometimes-battered image. "We have problems," he said.
"But we have remarkable people who can rise to the challenge."