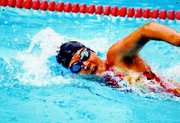 DALLAS -- Shelley Blain Reimer has a genuine passion for swimming. And it seems to be catching among her students at the Dallas Aquatic Center.
"In college, eons ago, I was on the swim team," said Monmouth resident Bob Main, who has taken one of Blain Reimer's fitness courses at the Aquatic Center. "I learned more from Shelley in four or five weeks than the entire time I was swimming. She's great, and the facilities are great. Shelley really knows what she's doing. I sure learned a lot from her.
"In my day, when you wanted to swim hard, you just stroked faster. Her idea is maximum efficiency. That's her theme. That never occurred to me in 50 years of swimming. The idea is trying to streamline the body so it cuts through the water, not plow through it."
Blain Reimer has lived in Dallas since 1997 and has been a licensed massage therapist for 11 years.
She started swimming as a youngster in Bainbridge Island, Wash. Things were a bit rough at first. "I cried every single day going to the pool," she said. But that changed rather quickly.
"I started having success and started liking it and stuck with it," Blain Reimer said. "It got me into a nice college (Willamette University). I stopped for a couple years after college, but I picked it right back up.
"I'm a huge competitor in the water. I had some success at an early age and just continued to compete. Now, as an adult, it's more for the health benefits, just setting an example for my family and clients to practice what I preach. Swimming is something I can do year-round, and it's something I can do until I'm 90 and can't get out of the pool anymore."
Many of Blain Reimer's students think they were fairly accomplished swimmers right up until taking her class.
"I'd been swimming ever since I was 6 or 7, being raised on Lake Michigan in northern Indiana," Dallas resident Rick Wolcott said. "Just because you're a swimmer doesn't mean you're using the best strokes to get the most out of it. A lot of people don't realize Shelley will teach you proper swimming strokes, which relates to efficiency in swimming. Another thing is proper breathing. Shelley does a great job covering the whole gamut of swimming.
"Even after being a swimmer my whole life, I finally learned there are other ways to become a better swimmer, ways to improve your stroke and be more efficient. A lot of people think because they can float, they can swim."
The Aquatic Center offers a wide range of swimming programs. There is something for just about everyone. There are classes for young and not-so-young, for serious swimmers and not-so-serious. There's even a power aquatics course that's open to non-swimmers.
"They're all great," Blain Reimer said. "I hear a lot of positive comments. People get bored because they've never had stroke instruction. They want to have somebody watch what they're doing.
"I've been having a blast. It's so cool to watch the adult swimmers come in. They're really convinced their not good swimmers. They really thrive by having just a little instruction. It's so fun to watch them do that."
Blain Reimer competes with a Masters team out of Bend because she's not aware of any local teams. She recently competed in a meet in Bend, taking three firsts and six seconds. She's hopeful of starting a Masters team in Dallas at some point in the near future.
"The whole motto for Masters swimming is 'Fitness for Life,'" she said. "A lot of people don't realize it's open to anybody. Less than one-third of people in Masters swimming actually compete. A lot of people do it just to train and for the social benefits.
"Of the people who do compete, less than half of them ever competed before. A lot of people think it's this huge high-caliber group of people who almost made the Olympics. It's not. The door is wide open to anybody who wants to be a part of it."
More information on Aquatic Center swimming programs is available by calling 503-623-9715.