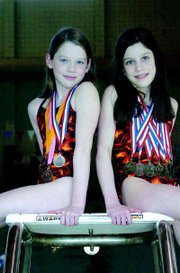 MONMOUTH -- Erika Twenge of Monmouth didn't think about winning before she entered the Class A state swimming meet on Feb. 21-22 in Springfield.
But win she did. Again and again and again. By the time the water had settled, the 9-year-old had brought home first place in all six events she entered.
"I was really excited about going there," said Twenge, a 4th-grader at Monmouth Elementary School. "I was looking forward to swimming. My goal was to try to get my best times in all my events. I was thinking about setting my best times, but I was excited about winning, too."
Sister Veronica Twenge made her presence felt as well in the 8-year-old division. She placed in the top eight in three of her six events. Her best finish was a second in the 25 backstroke. She set a Corvallis Aquatic Team record in that race and the 50 backstroke.
"In the 100 individual medley I thought I probably wasn't going to get a medal, but I did," Veronica Twenge said. "I thought I was going to get a record or something in the 25 back. I felt real good.
"I just like (swimming) because it's my favorite sport. I can do it any time. It's not like softball or something that you can only do part of the year. I like knowing that I'm going to do good. Doing better just makes me want to go faster."
Erika Twenge's winning times were 41.20 in the 50 breaststroke, 1:19.79 in the 100 butterfly, 1:17.18 in the 100 individual medley, 2:50.84 in the 200 individual medley, 33.46 in the 50 butterfly and 1:07.67 in the 100 freestyle.
She also swam legs on the medley and freestyle relay teams. She qualified for the Northwest Sectional Meet March 19-21 in Federal Way, Wash.
"You get to be with your friends, you get to swim and you get to work out together," Twenge said of her affinity for swimming. "It's really fun going to the meets, too."
Twenge's times in four events rank among the top 50 nationwide for 9-year-olds. She stands 21st in the 50 butterfly.
"Because I try hard in practice and try to finish all the sets I'm supposed to do," she said, explaining her prowess as a swimmer.