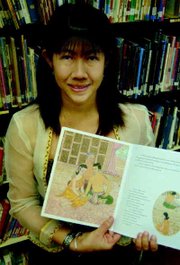 DALLAS -- Fourth-graders in Lyle Elementary School's Room 17 fidget with their traditional outfits as they wait for Yanarangsee Rungnapha to start their Thai dance lesson.
Brandon Crouch feels his silky yellow shirt. Melodee Elcner, wearing an ornate blouse and wrap, plays with her colorful earrings and necklace.
Lyle quickly has become the Thai cultural center in Dallas. Yarangsee is the school's second Thai teacher through AFS Intercultural Programs. AFS began as American Field Service, a group of volunteer ambulance drivers formed during World War I.
Soon, Lyle's library will house a section of children's books written in Thai and English. Principal Scott McLeod calls them "Took's books," after Yarangsee's nickname, Took."
McLeod came up with the idea to get the books after AFS representative Dale Derouin asked how he could help the school. Derouin paid for the books and Took's husband helped ship them over.
Volumes include fairy tales, poetry and a book about the Thai king. There's even a book written by the king, a biography of his dog.
Soon, students will get to read the books. Library workers have had the difficult task of figuring out the authors' names -- sometimes in the Thai alphabet.
"Cataloging them was fun," said library assistant Gale Ediger.
Students can use the books to practice the Thai words they learn from Took. They pick up more than language from her -- Took also teaches about festivals, dance and cooking.
"It's been a really great experience for these kids," said Mary King, Took's mentor teacher at Lyle. King likes the experience so much that she went to Thailand herself over winter break.
Took doesn't just stay at Lyle. She has been to nearly every school in the area.
Derouin likes bringing teachers to the country for the ability they have to reach others. "The reason I got involved with the teacher part of the program is because I thought it was a way to have impact on lot of people," he said.
"A teacher is so powerful with the impact on all the kids."
Took has been both teacher and student. She counts her students as some of the best English teachers.
Despite teaching English at a Thai high school, Took found her skills needed polishing. "I thought my English was OK, but the first two months after I came here I couldn't catch any of it," she said.
In King's class, Took finds students struggling to become fluent in Thai dance. She dances barefoot as students step along in white socks or clomp in sneakers to contemporary Thai music.
Some, like Elcner, 10, find the dance and costume a little strange. Joe Hiebenthal, also 10, opts to hold the red, white and blue Thai flag this time.
Last time, he wore a Thai wrap he called a "boy dress."
"It was fun and funny and weird and itchy," he said.