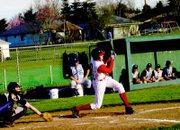 INDEPENDENCE -- Central continued its hit or miss ways in a March 27 double-header at Pleasant Hill, ranked fifth in the state among Class 3A baseball teams.
The Panthers took the opener 3-0 as Justin Reynolds and Sam Thompson combined on a three-hitter. But the Billies jumped to a 3-0 first-inning lead in the nightcap and won 11-1.
"It was definitely a tail of two games," Central head coach Dale Cutsforth said of the best-of-times, worst-of-times double-header. "The key for us is making sure we stay steady and don't make a lot of mistakes.
"I'm pleased with where we are overall. We have to minimalize the big innings and stay within ourselves. We can't try to hit the ball out of the ballpark and our pitchers can't try to strike everybody out. We've had a lot of ups and downs. We need to ride the ups and minimalize the downs."
Reynolds started the opener and allowed two hits in four innings. Thompson came in to start the fifth and finished, allowing one hit.
The two combined for one walk and one strikeout. Toss in one Central error, and Pleasant Hill managed five baserunners for the game.
"That was really key, keeping them off the bases," Cutsforth said. "They're the type of team that can cause you a lot of trouble once they get on base. We did a great job keeping their hitters off balance.
"We also were able to throw different pitches for strikes, and we made some good plays behind them. That's going to be key for us. We don't have dominant pitchers so we're actually going to have to be able to pitch."
Central scored the only run it would need in the first when Alex Stockner walked, Joe Pratt singled and Reynolds doubled.
The score remained unchanged until Reynolds homered to left-center in the sixth. It was his third home run in two games.
An inning later, Zach McKee singled, advanced on sacrifices by Brandon Davis and Anton Waterman and scored on a Tim McElravy base hit.
Central also visited opposite ends of the spectrum in the Phoenix Tournament on March 22-24. The sluggish Panthers lost a pair of games in the first day of the tourney but routed their next three opponents over the next two days.
Central opened against Rogue River and fell behind 8-0 in the first inning. The Panthers pulled to within 8-7 on a grand slam by Pratt in the fourth inning but eventually lost 12-7.
"We didn't start the game off very well," Cutsforth said. "I think we were very tentative. I think we were just kind of showing up and finding out what was going to happen. We had a long trip and didn't get there until late the evening before. We played like we were tired. We just didn't play well at all."
McElravy went four-for-four with a pair of doubles.
Central followed that with a 4-1 loss to Taft. Casey Michaels scored the Panthers' lone run in the third. Michaels walked, advanced to third on a McElravy base hit and scored on a Reynolds fielder's choice, tying the score 1-1.
Taft edged ahead 2-1 in the bottom half of the inning and added two more in the fifth.
Central pitchers Logan Yliniemi, Tony Heide and Andrew Waterman, all sophomores, managed to keep it close. The offense, however, was nowhere to be seen.
"We were not fired up to play," Cutsforth said. "We acted like we were very tired. I was very concerned as a coach."
Central answered those concerns in a forceful manner. The Panthers walloped Toledo 19-0 and Phoenix 12-3 on March 23 and closed the tourney a day later with a 29-1 pounding of Hidden Valley.
Adam Smith pitched a five-inning no-hitter against Toledo. He had no walks, struck out six and belted a bases-loaded double.
"He just threw a lot of strikes," Cutsforth said. "He just competed very well. He's probably one of our hardest throwers. He just came right at them. I don't think Toledo was ready to see us. They had a lot of younger players playing for them, but we also had a lot of younger players."
Pratt had three of Central's 15 hits and drove in four runs. Yliniemi and Reynolds finished with two hits apiece and drove in a combined five runs.
The Panthers beat Phoenix 5-4 in the playoffs last season but turned this one into a laugher by scoring 10 times in the second inning. Central pieced together seven consecutive singles during the outburst.
"Phoenix was tough last year, and they've got a lot of people returning this year," Cutsforth said. "I was kind of concerned. But we really got focused on what pitches we were going to see. We had a real plan before we came up to bat, which is something we really didn't see before then. We really hit the ball well against some of their best pitching."
Central took it to an even higher level against Hidden Valley, producing 18 hits and two 10-run innings.
Reynolds had a pair of 380-foot-plus home runs, went three-for-three and drove in five runs. McElravy also had three hits and five RBIs.
"This was against better pitching than we saw on (March 22)," Cutsforth said. "Everybody in our entire lineup hit the ball hard.
"I didn't know what the heck to think after the first day. I really questioned how well we could do. Then we really came back and got focused on the things we need to do to be successful. We're going to be a tough team if we can focus on our strengths."