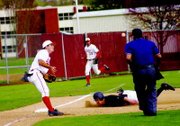 MONMOUTH -- Western Oregon pounded out 17 hits during a 10-2 win in the opener on March 27, but Central Washington's Jeremy Mannin pitched a five-hitter and won 5-2 as the visiting Wildcats gained a double-header split.
The twinbill was a non-conference affair, as both squads will open Great Northwest Athletic Conference play next weekend. Central Washington improved to 11-8 on the season. Western Oregon is now 15-15.
In the first game, Jake Nelson had four hits in his WOU debut and Tucker Brack added four more as the Wolves rolled to the win. Western's first seven batters of the game reached base. The Wolves scored in every inning except for the third and eighth.
Nelson, who just became academically eligible, had two doubles and drove in four runs in a perfect four-for-four beginning. Brack was also four-for-four with a pair of doubles and three RBI. Anthony Isabella added three hits and two doubles. Adam Yeaney had two hits.
The Wolves used seven different pitchers, who combined to hold the Wildcats to eight hits, two each by Willie Kahn and Scott Wilson. Kahn had a solo home run, his fifth of the season.
But things were much different in the second game. Mannin gave up two runs in the first inning on a two-run shot by Brack, blanked the Wolves the rest of the way on three hits.
He did not walk a batter.
Meanwhile, the CWU offense struck for two runs in the first and third innings to provide Mannin with all the support that he would need. Kahn again had two hits to pace Central Washington. Chad Boyd had a pair of hits for the Wolves.
Western, which has lost five of its past six games, opens GNAC play for real with a four-game set against Saint Martin's this weekend.
Western begins its quest for a fourth straight conference title and third straight GNAC crown this weekend. The league's coaches picked the Wolves No. 1, followed by Northwest Nazarene, Central Washington and Saint Martin's. The top four teams in the final West Region poll qualify for the NCAA Division II tournament. The winner of the GNAC does not automatically qualify.
Saint Martin's comes to town for double-headers Saturday-Sunday, April 3-4.
Saint Martin's is off to a slow start with a 3-23 mark, having lost six in a row and 14 of its last 15 games. The Saints return the 2003 GNAC Pitcher of the year in Joe Sliva, but the lefty is struggling out of the gate with a 1-5 record and 7.33 ERA.
WOU won seven of the eight games last year between the two teams, and the Wolves lead the all-time series, 26-10.
Western Oregon is 9-3 at home this season and has won 61 of its past 72 games in Monmouth.