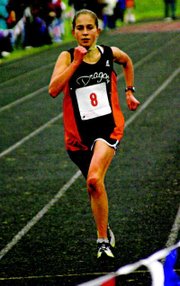 CLACKAMAS -- Vita Picci-Dobson of Dallas used both her legs and her mind to earn a spot in the state cross country meet.
Picci-Dobson was among a handful of runners vying for one the final state berths in the Pac-9 Meet at Clackamas Community College on Oct. 28. The top two teams and seven individuals advance to state on Saturday, Nov. 6 at Lane Community College in Eugene.
Judging by past performances, Picci-Dobson was right on the bubble as far as qualifying for state. But she ran a smart, steady race in the Pac-9 Meet, finishing sixth in a time of 19:44.13.
"I just felt like I really wanted to go to state," Picci-Dobson said as light rain fell on a breezy, chilly afternoon. "I really had to focus and put all my energy in the right place."
Picci-Dobson got off to a strong start but was running somewhere around 10th or 12th after a mile of the 5,000-meter event.
"It went great," Picci-Dobson said of her trek around the Clackamas campus. "I just kept picking off people and staying mentally tough. I just kept telling myself I could do it. I can't believe I did it. It feels awesome."
Picci-Dobson also played soccer in the fall and worked out very little with the cross country team. But with the soccer season now finished, she'll be able to give her full attention to the state meet.
"I haven't really been thinking about state," Picci-Dobson said. "I've just been thinking about this week. I think I'll just have fun at state."
Dallas' other state hopeful was Michael Ryan on the boys side. He ran a strong race but was unable to keep up with the lead pack. He finished 20th in 17:50.46. The seventh-place runner finished in 17:00.13.
Chelsea Wiens ran a 20:55.13 and finished 17th for the Dallas girls.
Dallas was seventh in the boys team competition with 177 points. Canby won the team title with 52 points, edging Forest Grove (54) and Tualatin (55).
Other finishers for the Dallas boys were Mitch Tichinin (27th place, 18:05.37), Dustin Hiebert ((32nd, 18:15.92), Nate Anderson (48th, 19:36.70), Chris McBride (50th, 20:14.70), Dempsey Weld (52nd, 20:37.84) and Nic Wilson (54th, 20:59.19).
The Lady Dragons finished sixth with 137 points. Tualatin repeated as girls champs with 41 points, beating Canby (54) and McMinnville (81).
Other finishers for the Lady Dragons were Diane Landry (32nd, 22:11.34), Angela Smith (39th, 22:48.69), Kendra Fresh (42nd, 23:25.80) and Mattie Morris (43rd, 23:26.62).