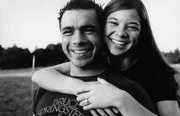 Higashi-Smith
Ashley Ann Higashi of Corvallis and Mark A. Smith of Dallas are planning a March 2005 wedding.
The bride-to-be is the daughter of Larry and Mary Ann Higashi of Dallas.
Her fiance is the son of Dana and Sara Smith of Dallas.
Ashley and Mark are 2000 graduates of Dallas High School.
Ashley, a student at Oregon State University in Corvallis, has plans to graduate in March 2005 with a bachelor of science degree in human development and family sciences.
She works at the Corvallis Community Children's Center.
Mark, a student at Chemeketa Community College in Salem, works for Premier Manufacturing in Canby.
More like this story