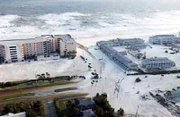 INDEPENDENCE -- Lonni Nicoll says the extent of the damage was sadly apparent during the daily 2.5-hour commutes from the disaster team staging area in Orlando to West Palm Beach.
Homes in ruins. Storefronts smashed in by marquees and signs turned into missles by 120-mph winds. Long columns of palm trees, stripped of their foliage, bent or snapped at the middle. Streets flooded with raw sewage.
The view of the communities from the highway, Nicoll said, was a grim testament to the power of hurricanes Charley, Frances, Ivan and Jeanne.
"One of the strangest things," said Nicoll, program manager of the Polk Citizens Emergency Response Team (CERT), "was that the storm would completely devastate one neighborhood and miss the next one. The damage was very widespread." Nicoll and 17 local CERT volunteers traveled to Florida Sept. 8 to assist in the relief effort in the wake of a series of hurricanes that killed 52 people and did billions of dollars in damage to eight states.
Most of the group returned to the Northwest last week to debrief and recoup. They will hold a presentation detailing their experiences at 7 p.m., Thursday, Oct. 7, at Calvary Chapel, 1399 Monmouth St., Independence.
Nicoll said the county team was the only contingent of emergency volunteers from Oregon to respond during the Federal Emergency Management Agency's initial disaster team deployment on Labor Day.
They joined almost 4,000 workers from other agencies across the country.
"It's been one of the most massive collaborations on a national scale ever," she said.
Nicoll worked with a team of about 25 in eastern Florida, from St. Augustine to West Palm Beach, handing out food and water, connecting people with Red Cross and letting them know how to apply for financial assistance.
Even though she'd been monitoring the disaster up until her departure in September through newspaper and television reports, Nicoll said the damage was beyond what she anticipated.
Many of the visits were to ocean-side mobile home parks and low-income neighborhoods that had been ravaged by winds and flooding. Nicoll said they arrived in these places to learn that some residents had been living without electricity or clean running water for almost two weeks.
"Some of those people hadn't eaten for days," she said. "Grown men were actually crying for a glass of water."
Her group happened upon a community of retirees in Beverly Beach, about 40 miles south of Jacksonville, who tried weathering out the storm in their nearly collapsed trailers.
Nicoll said they found one woman in a house missing half its roof, trying to soak up the seawater in her living room with towels and sponges.
Flooding and high winds created other threats, as well. Poisonous water moccasins were swept from nearby streams onto city streets and sidewalks. Buildings and wooded areas were overrun with wolf and banana spiders.
"Between the airport and our hotel, they were everywhere," Nicoll said.
Nicoll said CERT-trained individuals from Polk County were deployed by FEMA to provide logistic support for other agencies on the scene.
Scott Smith of West Salem, a volunteer with the Willamette Valley chapter Red Cross returned from Florida Sept. 24, after a six-week stint driving supplies to shelters and mobile kitchens set up throughout Central Florida.
"It definitely made an impact on me," said Smith, a retired firefighter. "I saw a lot of rural areas that weren't being reached by any agencies because they were so isolated."
People formed long lines to get into restaurants and grocery stores that had remained open. Because many places were without electricity, Smith said he was constantly being asked for ice to keep food from spoiling.
Smith said the parts of Florida he visited were a mess.
"I saw a semi-truck turned over on its side," he said. "And in Pensacola, one of the last things I saw were sailboats, 35 to 40 feet long, lying in the middle of streets and highways.
"We were far enough away where you couldn't see the bodies of water they came from."
Nicoll said the relief and recovery effort in the Southeast will last for months. She said FEMA will probably deploy Polk CERT members again within a few weeks. Smith said he also plans to return shortly.
He said people in the Northwest can learn from what's happening on the East Coast, particularly with the threat of an eruption from Mount St. Helens.
"We could have another ice storm, an earthquake," he said. "I think we need to realize how important it is to take disaster preparedness seriously."