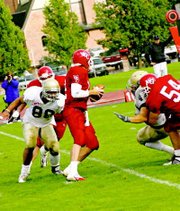 MONMOUTH -- Going into a game against a nationally ranked opponent from Division I-AA, a Division II team such as Western Oregon has a very slim margin of error to begin with.
On Oct. 9, it was WOU errors that largely contributed to a very big margin, as the UC Davis Aggies took advantage of numerous Wolves miscues in a 54-2 win.
Five of the Aggies' seven touchdown scoring drives came directly from Western Oregon turnovers -- three fumbles and two interceptions -- and the average UC Davis starting position after a turnover was the Wolves' 17-yard-line.
"We played a very good team today, and you just cannot give a good team those kind of advantages," said head coach Duke Iverson afterward. "Our kids felt they could play with UC Davis, but it's hard to prove that when you offer them that kind of a head start on that many possessions."
After UC Davis, ranked 24th in this week's national I-AA poll, took an early 7-0 lead, Western Oregon closed the gap to 7-2 when the Aggies' long snapper sailed the ball out of the end zone on a punt attempt.
And, although Western Oregon managed to hold UCD on three of its first four possessions, the burden of the turnovers proved too much in the second and third quarters.
Western Oregon was not able to put together an extended offensive drive, struggling to establish any kind of running game. The Wolves ended up with a net of minus-2 yards on the ground, and the quarterback duo of Denny Bies and Ryan Thorson managed just 120 yards on a combined 17 of 31. UC Davis had 295 yards in the air and a total of 446 yards in offense.
The two teams combined for 253 yards on 22 penalties.
"We did some things well, and actually had some effective pass coverage," said Iverson. "Their receivers made several outstanding, athletic catches for touchdowns or big gains. But it was our own failure to execute -- both holding on to the ball and avoiding penalties -- that hurt us most."
The win dropped Western Oregon's record to 1-4 on the season. UC Davis remained unbeaten at 5-0, averaging 45 points a game.
WOU plays at Central Washington next Saturday. The starting time is 1 p.m.