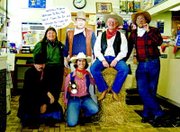 DALLAS -- Dallas post office employees wore attire from the west Sept. 10 in celebration of the new John Wayne stamp.
The post office was also gussied up, resplendent in hay bales and a life-size cut out of the Duke himself.
Morrie Bart, the Dallas Postmaster, said they have received so many requests for the cardboard cowboy that he and his staff decided to hold a silent auction for him.
In honor of Wayne's fight against cancer, all proceeds from the auction will be donated to the American Cancer Society's Polk County Relay for Life. The auction bid sheet will be available until 5 p.m. Thursday, Sept. 23, in the post office lobby.
The highest bidder will also receive a full pane and first day cover set commemorating the stamp's first day of issue.
John Wayne is the tenth star to be honored as part of the "Legends of Hollywood" series, which has included Humphry Bogart, James Dean, and (last year) Audrey Hepburn.
The series began in 1995 with Marilyn Monroe and has continued since then. Monroe still holds the record for most prints made with 353 million sheets sold.
A sheet sells for $7.40 and can be purchased at the post office or online at www.shop.usps.com
More information about the relay for life can be found at www.cancer.org.