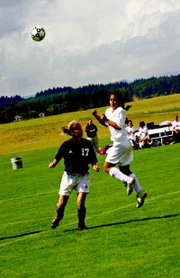 MONMOUTH -- Western Oregon lost a 4-3 heartbreaker to Western Washington on Sept. 11 but bounced back for a 2-0 win over Central Washington on Sept. 13.
The games were Western's first Great Northwest Athletic Conference matches of the season. Both were played at home.
The Wolves will wrap up a three-match homestand by hosting one of the conference and region's top teams in the Seattle University Redhawks. The game starts at 1 p.m. on Thursday, Sept. 16. WOU then will head south for a one-game road trip, traveling to Arcata, Calif. to tackle Humboldt State at noon on Saturday, Sept. 18.
Sophomore Amy Weberg scored twice in the first half, lifting Western to its win over Central Washington.
The win snapped Western's five-match losing streak. The Wolves are now 2-5 overall.
Weberg opened the scoring with a high, looping shot over the head of Wildcat goalie Samantha Kooy, just five and a half minutes into the match. Weberg added another goal at the 31-minute mark.
WOU peppered the goal with 20 shots, including eight by Weberg, compared to just six for the Wildcats. Nelson had four saves in the complete-game shutout.
Western Washington scored three goals during a seven-minute span in the second half to knock off the Wolves.
Western Oregon tallied three goals in the first 20 minutes of the match, after trailing 1-0 moments into the contest.
Western Washington scored its first goal at the 5:26 mark via a cross shot by Chela Gray, assisted by Rachelle Saletto.