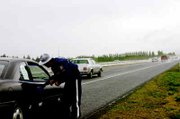 POLK COUNTY -- Oregon State Police trooper Michael Iwai flips on his squad car's emergency lights and guides the black Dodge Neon in front of him onto the right shoulder of the westbound lane of Highway 22, past the Oak Knoll Golf Course.
Seventy-two in a 55 mph zone.
It's probably not the last stop Iwai will make during the rest of his 10-hour shift.
As Iwai confers with the driver from the passenger side of the Dodge, several cars whiz past him in the lane closest to the shoulder, without slowing down.
It can be nerve-wracking, Iwai says. And it happens often during patrols of Polk County's state highways.
"You're in a vulnerable spot whenever you're on the side of the road," he said. "It goes with the job on traffic stops. It doesn't matter which side of the car you're operating on."
Since July, Oregon drivers have been adjusting to tougher traffic laws regarding school zones and crosswalks. Iwai said he and other enforcement officers want motorists to be aware of another new, less-publicized regulation.
The "safe distance" law was passed during the last Oregon Legislature and went into effect in January of this year. It requires motorists to maintain a safe distance from an emergency vehicle that has stopped on or along the side of a road with its lights flashing.
Drivers on multi-lane routes must move over to an empty lane, if possible. If it's not safe to switch lanes, the vehicle must slow to a safe and reasonable speed.
Those who fail to obey the law will be hit with a $237 citation.
"The aim is safety for officers and other emergency personnel that work in very dangerous situations along freeways and highways," said Lt. Glenn Chastain, spokesman for the State Police.
There were 21 crashes in Oregon involving police stopped or beside roads between 2001 and 2003, according to the Oregon Department of Transportation.
Eleven law enforcement officers were injured during that time. In 2001, an off-duty Albany police officer and a state trooper were struck and killed by a driver as they were assisting a disabled motorist on Interstate 5 just south of Salem.
A few agencies in Oregon have been aggressive in cracking down on the law. Last month, the Washington County Sheriff's Office conducted an eight-hour sting in Hillsboro that stopped almost 300 drivers.
Chastain said OSP has only been citing motorists for violating the law during flagrant and serious incidents.
"For the most part, we've been issuing warnings," he said. "Because it's a new law, the objective of OSP has been educating the public this year.
"As with most laws, we're trying to do a grace period," he also said.
There are logistic problems with trying to enforce the new law, Iwai said. Doing so would essentially require response from two troopers or officers in separate vehicles to an incident, with one monitoring passing traffic.
Iwai said he's given six warnings regarding the law this year. As the only OSP trooper operating in Polk County, he said it would be impossible to leave an incident in order to enforce the law.
Lt. Jeff VanLaanen of the Polk County Sheriff's Office said it would be a problem for his agency as well, with only two or three deputies on patrol at once.
Iwai said that OSP could be performing occasional saturation patrols in Polk County in the near future, with the aid of additional troopers from the Salem office. An OSP plane and even the camera in his car might also be used to spot violators, he said.
Iwai said from his perspective, the law is much needed. He was rear ended by a drunk driver while working on the shoulder of Highway 22 a few years ago.
He was a close friend of Maria Mignano, the state trooper killed in the 2001 roadside accident on Interstate 5. His former supervisor, Sgt. John Burright suffered serious injuries in the same incident that forced him to leave his job.
Iwai said the drivers he's stopped for violating the law weren't even aware it was on the books. He said that needs to change.
"It essentially does two things," he said. "It protects the officers, but also the motorist that's been stopped."